Japan 5 - Tokyo and Hakone

A short trip, but this time with kids!

---
Tokyo!
Mark is currently working in Japan. We were going to Hong Kong for the annual family pilgrimage and with a little bit of airline tweaking, you can stop off in Tokyo almost for free! It's been a few years since our
previous trip to Japan
(with Mark, but no kids) and what better way is there to see a country than with people who actually live there! Sadly, every day spent in Japan was a day we weren't spending with family so we only booked six days in Japan - next time book more!
Mark has a flat very close to Shinjuku. Shinjuku is a great place to land if you have jetlag because a lot of services are open late or early so it almost makes it seem normal that you are waking up at three in the morning.


Our first morning started around 3am - the kids just woke up. We were expecting this - the kids move at best an hour or two a night and 3am was roughly their wake up time in Canada.


Tsukiji Fish Market
The
first time I went to Tsukiji fish market
was in 2002 on my second trip to Japan. I was in wonder with the place - so many foreign sights, so busy. The place was magical - I could have spent the whole day there. The first visit took a while to figure out where everything was and I seemed like an alien exploring an new frontier - vendors were surprised to see me and asked about my camera. My
second visit in 2009
was much different - we got there in time to see the Tuna auction but the place was now expecting us - there was a roped off gallery for visitors. Helen found a great place for sushi listed in the Rough Guide and although the place was busy, there wasn't a big line up.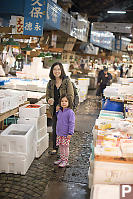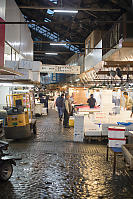 Things have changed further. We didn't arrive in time for the Tuna Auction - we have done that before, but I wanted to walk though the seafood vendor area again. We walked for about 10 minutes before a security guard found us. The security guard had a binder and flipped to a page with the rule we violated - no tourists in this area until 9am. The rule was written in Japanese, English and several other languages. He kindly escorted us out of the photo photo paradise and dumped us in a parking lot. I kind of wonder what the other pages in his book have written on them, but it was game over for us - a family with two kids is really easy to pick out as "doesn't belong here".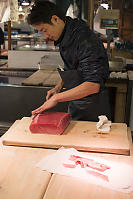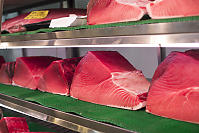 Helen went to get her morning sushi - remember with Jet lag it is much closer to lunch sushi and so makes sense. The place we went to in 2009 now had a huge lineup (at least the volume of the restaurant, if not more). Second listed restaurant - same thing - long lineup of bored, bleary eyed tourists. Helen found a new restaurant with fresh trip adviser and yelp stickers on the door, but not yet swarmed by the online crowd. She had the restaurant to herself.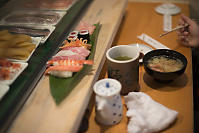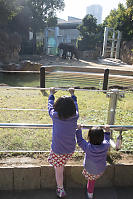 Some day our kids are going to read this blog and hate us. We went to Tokyo. Did we go to Tokyo Disneyland? No. Tokyo Legoland? No. We went to the Ueno Zoo. I'm not a strong advocate for zoos and the Ueno zoo has issues - their elephant enclosure seems way to small for me, as did the hippo enclosure, but I hope that with kids seeing wild animals, each generation will think more about habitat and respect for nature. I don't have much evidence to support that optimism though.


Taking photos in zoos is kind of strange. It clearly isn't a wild animal and making the animal out to be anything other than captive is dishonest. Because your kids are looking at the animal, it's nearly impossible to take a photo of them (their face) and the animal. We did see some people practicing with long lenses and fancy cameras, but it was mostly moms with cell phone cameras.

The zoo has a number of star species (Panda bears for instance) but it have also stars some Japanese animals. I was really happy to see the exhibit for the Japanese Giant Salamander. We were luck to see feeding time - a dead but whole fish was inhaled in a single opening of the animals mouth - a quick snap and the fish disappeared. The close-by exhibits did spend some time describing habitat loss in Japan and Asia. Good zoo? Mixed bag. I think the kids had fun.


Day two, did we go to the place kids want most? Nope. We went shopping. Worse yet, today is Halloween! We happen to be visiting a country that doesn't really celebrate Halloween so yet again our kids get to miss out. Was it completely terrible? Not really. Turns out Japan is starting to pick up Halloween - in the food area of Isetan (a Japanese department store), they were running a "Trick or Treat" event - go to the counter, say "Trick or Treat" and they give you a gift. The first counter was giving away premium cookies and they were generous. After that we got ice cream and found a costume try on photo area. The kids had a good time.


The kids were still working through jet lag so the kids were generally in bed by late afternoon. I took parenting duty and Helen tried to eat as many Japanese treats as she could find restaurants open. Highlights include Wagyu Beef, Barbeque seafood and authentic Ramen (all different restaurants of course):


Hakone
Our trip was basically three days in the city and three days in country - Hakone. Hakone is really close to Tokyo (a two hour train ride) so it's quite popular and hence busy on the weekends. We happened to be in Japan during a holiday long weekend so we were glad we booked the Ryokan months in advance. Glad we did.

Our first day was getting there, renting a mini-van and then driving to Gotemba Premium Outlets. Gotemba really isn't part of the "Hakone" experience - it's actually in the next prefecture over - but it was in the top three for my wife. If you have been to another Premium Outlets it will seem very familiar - massive parking lots (stacked here) and a "village" of stores and pedestrian squares and streets. Most of the stores they had are available in North America as well - They had Prada and Lego that I haven't seen before, but otherwise same same.

There are no car rental shops in the village we are staying in (Kowakidani) so we had to drop off the car in Hakone-yumoto station and take the train back to our Onsen. After the short walk from the train station we were running a little late for dinner. As soon as got in the plates started arriving.

Traditional meals are generally served as a large number of courses with each course having a highly stylized presentation. The meal is generally composed of a number of flavors and textures but almost always has similar elements - Rice and Miso soup at the end, generally sushi to start, often a soup in the meal. Generally there is a lot of seafood, much of it unrecognizable or without an English name. Generally you see a tempura dish, local pickles served somewhere and fruit served as dessert, although more western deserts seem to be entering. The meal below is from our second night (the black egg was something I brought home) - each day's meals was distinct.


The only way to make meals like this is for everyone in the building to be eating the same meal. Generally Ryokan's have a short schedule - only three different meals are severed before they repeat, but the menu's usually change with the seasons of the ingredients. This Ryokan could not accommodate Vegetarians - they say so on their web site and confirmed by e-mail. I still got a meal, but the kids ate whatever they want and Mark and Helen cleaned up the rest. I got an egg sandwich from the Lawson and the fruit.
Our room came with a private indoor and outdoor bath - a luxury we first experienced in our
winter Japan trip
. Claira was having none of it, but Nara was brave enough to give it a try. The kids didn't have a problem with the traditional tatami mats or eating on a table less than a foot off the ground.
Hakone has a tourist "circuit" to do - local train to Gora, a funicular train up to a gondola station, a gondola up to the peak where there are hot springs, another gondola to the lake, and a boat ride on the lake to a nice lake side community and finally a bus ride back to your starting point. Everyone does it. Everyone. We started by walking down to our local train station - the train to Gora was tight but we got on. We arrived at the local train terminus (Gora) to transfer to the cablecar (funicular). Just getting off the local train, there was already a half hour wait to get on the cablecar.
The cablecar (funicular) drops you off at a ropeway (gondola) station. From there you really gain altitude. The ropeway takes you up over the forest toward the peak of the mountain. We are a little early for the fall colours - some patches of trees are changing colours, but many trees are still green/yellow.

Unlike other ropeway/gondola/cablecar systems I have ridden in, this system has two cables widely spaced that make for a very stable ride. As you crest the ridge near the top, you find yourself sailing over a valley of sulfur mining, what might have once been a caldera. The long span makes you glad that your gondola is super stable because it's a long distance from one tower to the next.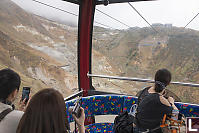 The top of the mountain is a tourist trap. We had lunch at one of the larger buffet restaurants and then walked up to the hot springs to see how they make the black eggs.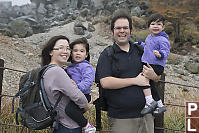 As we walked back down to the ropeway station the fog rolled in - visibility went to a few meters. After a long queue, we got on a gondola down to the lake side station.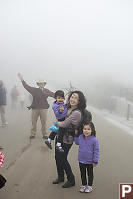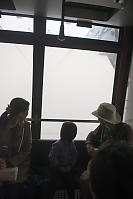 Here we got bad news - because of the fog (and now light rain), the boats weren't traveling. The tourists were piling up and there were no taxi's to be seen. With a bit of help, we found a local bus that would transfer to another local bus to get us back to our hotel. Thankfully we were at the bus terminus because for our entire ride, no one else go onto the jam packed bus. We made it home for dinner.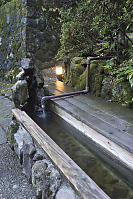 We had two days at the Hotel and it was time to go. I had some regrets - because we came on a super busy weekend, we didn't get much time spend at the Ryokan. The kids and I went for a short walk while Helen finished up the packing.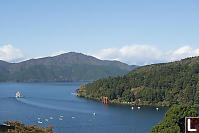 Hakone is beautiful place to visit known for it's views of Fuji. Sadly, we hadn't seen Fuji. We asked at the hotel for options (given the we had to be at Nariata Airport at 4pm for our flight to Hong Kong - they suggested a taxi ride to the lake side village. Being a busy weekend, it took a while to get a taxi, but the driver (who didn't speak any english) stopped at some good view points before taking us to the Shinkansen train station. If you look really closely, you can see a few pixels of Mount Fuji in the picture. Honest. Really.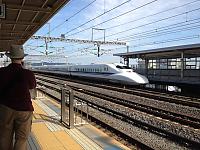 We had two train rides - first to Shinagawa Station and then the transfer to the Nariata express. Considering the distance we traveled, the trip sure went by quickly.
---
Tags: Japan(33), Tokyo(15), zoo(7), fish market(6), food porn(5), market(3)
People: Nara(7), Claira(7), Helen(4), Mark(3), John(2)
From: John Harvey Photo > Trips out of the Country > Japan 5

Last Modified Tuesday, January 17th, 2023 at 23:00:34 Edit
Copyright and Contact Information.