Kayaking in the Gulf Islands
Great weather, Great trip.
---
Yeah! Kayaking again! We left from the port in Anicis island and headed straight into Georgia Straight and the Gulf Islands. First stop - Mayne Island.
Nothing beats waking up on a ship. We woke up with the sun and went for a brief hike around the park in Montegue Harbour.
The light in the park at sunrise was great. Being low to the horizon, there were lots of shadows and interesting details.
After hiking around the island we returned to the sea shore and tormented the sea stars.
After our hike we returned to the ship for breakfast. Jan asked us where we wanted to go and the vote was Saltspring! Every Saturday mornings in Ganges has a public market where many of the local artisans and farmers show off (and hopefully sell!) their wares.
Coming into the harbour by Zodiak, we jumped into the outdoor market.
The Market is alway great. My personal favorites on this trip were the chocolate cookies and flowers. We returned to the boat, had a great lunch, and went for a kayak around the three sisters islands.
The shell beaches are great - how they are formed I will never know.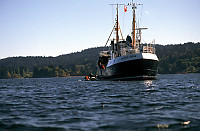 Ganges at night.
---
Tags: beach(4), gulf island(4), market(3), Salt Spring Island(3), sunrise(2), kayaking(2)
People: John(1), Mark(1)
From: John Harvey Photo > John Harvey Photo - Kayaking in the Gulf Islands
From: John Harvey Photo > John's Overnight Page > John Harvey Photo - Kayaking in the Gulf Islands


I just ran across your photos today, I have really enjoyed browsing through them. You definitely had a talent. Thanks for the great photos! Kelly Rolen Huntsville, AL

Kelly Rolen
Monday, October 8th, 2007 at 18:07:54


Last Modified Tuesday, June 9th, 2009 at 00:33:27 Edit
Copyright and Contact Information.