January 2016
The Cold and Dark time of the Year

---
Sunrise from the Cypress Lookout
I've seen a video of fog rolling out of Vancouver in the morning. It was shot time lapse from up high. I wanted to try and do the same thing. Sunrise was around 8am. I woke up early, drove up to the lookout for 6:45am and started shooting.


There were a few surprises. First, it's really bright two hours before sunrise. I had no problem seeing the city even an hour before sunrise. Second - the city is really close to the lookout. I brought my long lens just in case, but my 80-200 had no problem covering the scene. Lastly, processing the video turned out to be a huge job.
Claira Attends Cadence's Birthday
Cadence is Claira's classmate in her daycare program. We were luck enough to be invited to Cadence's 4th birthday at the 6 Pack Beach in Richmond/
Mitchell Island. The warehouse has about a foot of sand laid over an area large enough for about 5 volleyball courts. The sand isn't that warm (it's hard to warm such a large space) but it was fun enough to run around in bare footed. Cadence's parents brought huge balloons which all the kids loved to throw around and play with.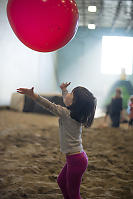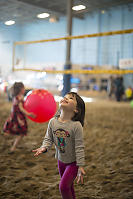 Barred Owl at QE
The kids have gymnastics on Saturday afternoons next to QE park. I used to just read stuff on my phone to pass the time but in December I figured out there was enough time for a walk in the park and then discovered a Barred Owl that seems to wake up at the same time in nearly the same tree every Saturday. This week I went out for another walk to see the bird.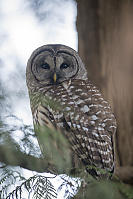 Nara Attends Everett's Birthday
Everett is in Nara's Kindergarden class. His family seems to have invited the whole class to his birthday party at the Point Grey Community Centre.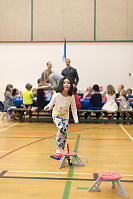 Christmas lights (in January!) and VanDusen
New this year, VanDusen left their Christmas lights up and you can get in for regular admission. Since we are members, that means free admission which works really well when you have kids with a reasonably short attention span.


Hands down, my favorite display was the "Octopus stole the Mermaid's Bra" section. I pointed it out to my wife and promptly hear "ahh - right!" from people around us - I think many people didn't even notice what was going on. The obviously Christmas stuff (Santa in lights, the grinch, gingerbread men and houses) is popular, but I got a real grin out of the undersea area.


So much of good photography (and portraiture) is light and there are plenty of great lighting setups at the light show. In the pre New Years show, they have thick crowds and the many of the paths blocked off - on the January weekends the crowds were thinner and the barricades were more "random". Because people can visit the garden during the day in January, they have to move the barricades to let daytime walkers through. On our night, not all the barricades were reset (and some were blocking legitimate paths) causing crowds of people to walk down unlit paths only to find a barrier to them rejoing the lit area. The confusion made me smile.


The Vancouver Boatshow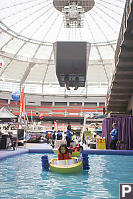 A few years ago I took my Dad to the boatshow with the kids. My dad happened to be in town, the boat show is close by and in younger years he talked about getting a small boat on a trailer for some boating on a nice day. My dad wasn't so much into the boats at the show but Nara had a great time playing in the paddle boats. Fast forward two years, Claira is as old as Nara was and I had the kids for the morning so we went to the boat show!



We got to the stadium closer to 10am so Nara and Claira had the pond to themselves for as long as they wanted. Of course there arms aren't going to last forever but they did have a good time rowing around the indoor pool. This year the boat show had a bouncy castle (size extra large, with an ocean theme!) so the kids went for jump in there too!


Super bonus this year, we got a slot on the free boat rides. The boat rides are put on by a local sailing club and a boat rental firm. The trip was a free run around false creek, roughly overlapping the course the water taxi's go. There was no sales job, but the captain did answer questions about sailing and how to get on the water more. For me it was more of test of if I or Nara would be sea sick. Both of us passed with flying colours!

I do feel a bit guilty that I didn't look at a single boat, but I did get infected with an idea: "It's not how big your boat is, it's how often you use it". Words I agree with.


Photowalk (Birding) at Stanley Park
There is a beaver house at Stanely Park and I really wanted to see a beaver. The Stanley Park Ecological Society runs "Beaver" tours some evening but I figured I just do it myself - go out to the pond and wait for sunset. Claira was napping, sunset is around 5pm, I took Nara and we went for a drive! Our first stop was the lighthouse. No beavers, but you do sometimes see interesting birds and behavior.


Next up, Beaver Lake. We parked, walked in and looked for a beaver. Too early. We watched the ducks (mostly Mallards and Wood Ducks) and spotted a single black and white male Bufflehead in the crowd. So we waited and watched. Nara had her snack and fed the ducks. We waited some more. Just as sunset getting strong, we noticed three eagles came in and got the ducks all excited. We didn't see any strikes, but I did see an eagle land on log and take a drink of the lake. The eagles perched in trees. More waiting. The sun set. No beaver. We went home for dinner.



Nara said she had a good time - she made a model of the beaver house with mud, rocks and sticks. Maybe we will see a beaver another time.




---
Tags: Stanley Park(5), bird(5), Vancouver Boat Show(5), sunrise(3), lights(3), night(3)
People: Nara(10), Claira(7)
From: John Harvey Photo > Blogs for 2021 to 2005 > January 2016

Last Modified Tuesday, January 26th, 2016 at 22:06:27 Edit
Copyright and Contact Information.