May 2013
Happy Mothers Day

---
Victoria for the Weekend

We figured Victoria would be a nice trip for Mothers Day. We drove over Friday night (even got one ferry earlier than we intended) and crashed at Grandma's house. The next morning was a low tide so we went to Cordova Bay for a walk on the beach. Grandmas of course had all the toys for beach play - nice shovels, sand forms and kitchen spoons.

The tide was really low so we could walk out quit a ways into the bay. Some spots in the sand have lots of clams and you can see them jet water when you walk to close.


Ever since high school, I suspected there were seals out on the rocks, but I never had a long enough lens to actually see them. My lens isn't any longer, but the resolution is high enough that now I can see there really are seals out on the rocks.

There weren't a lot of other guests at the beach other than us. The family of Canada Geese were cute. Lots of little shells in the sand.
We came home for lunch and naps. After Nara's nap, before dinner we went out for a walk to Outerbridge Park, a short distance from my parents house. This park has all sort of little pretty spots to take photos and it's fun to walk around with a wagon.

The next morning the weather was a little less friendly so we decided to take a walk to the playground at McMinn Park. We brought the wagon instead of the stroller and the two girls shared the wagon for part of the ride.

Thanks Mom and Dad for the fun weekend!

Nitobe Memorial Garden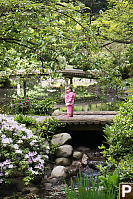 I've heard the the Nitobe Memorial Garden is known for their Cherry Blossoms, Fall Colours and Irises. Cherry Blossom season is over and the local Irises (Yellow) are full so I figured now would be a good time to visit.

The Iris's were thin on the ground (there are probably 6 varieties in the garden but only one species was blooming). That said, there were lots of other details to focus on. One of the things I like about Nitobe compared to other gardens is the quanity of native plants on display. The moss covered understory really is a pleasure to walk around.



Claira is walking rather well now, but she wants to stop and put every stone in her mouth. It is temping to just pick her up to avoid having to take the stones away, but she will just squirm and complain until she gets her way. She is going to be a lot of fun when she is two.



On our way out, we say the sign that reminded you of the "rules". We missed the rules on the way in. Some rules that we broke (there are 12 in total):

Quite and Respectful talking. (We have kids. They yell)
No eating (Nara had crackers)
No littering (I'm sure she spilled cracker crumbs)
Stay to the paths (the sign doesn't say it, but you are allowed on the mowed grass)

No running

I do like this garden, but I'm wondering if they like us.


---
Tags: Nitobe Memorial Garden(6), swing(5), Outerbridge Park(4), Cordova Bay(3), bridge(2), reflection(2)
People: Nara(12), Claira(9), Helen(2), Janet(2)
From: John Harvey Photo > Blogs for 2020 to 2005 > May 2013

Last Modified Monday, March 17th, 2014 at 20:35:22 Edit
Copyright and Contact Information.