May 2019

Spring Sure is a Relief

---
Mirabilia - Richmond Rock Show
We went to a
rock show in February
and the kids really enjoyed themselves. At the show they hand you a small stack of photocopied cards of future rock and mineral shows around the lower mainland in the coming months. Mirabilia was one of those shows - a small show by the Richmond club. We headed out to Richmond and dropped in on the small show.
The kids found Yukon Dan had setup a small station where you could pan for gold. For some reason, the kids love gold so they quickly took to the instructions and were pretty productive, even on their first pan full of sand. Of course it helped that the sand was riddled with gold.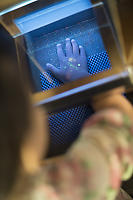 The Rock show had the usual booths of jewelry and things to buy. They had a section with lamp boxes where you could see minerals that showed fluorescence in the UV light. Claira figured out that the pen she had used to write on her hand also glowed under UV light.
P.A.P Unión Public Tour at Burrard Dry Dock Pier
Roughly two years ago, we
toured two Japanese training ships
when they stopped in Vancouver. I'm not well connected to the "ship tour" itinerary so I heard that this massive ship had a public opening when it had already shown for a day and only a had a day left. It was open Saturday and was guaranteed to have long lines. The kids had activities (Taekwondo and Chinese class) so there was no way we were going to get there before the 6pm closing. We figured we would swing by after dinner and see it without getting a tour.
When we arrived (and found parking) at 7:30pm, the ship was still taking guests. I read that earlier in the day the line up to get on board ran the whole length of the pier and I'm sure would have been a challenge with kids. We were lucky enough to basically walk on and view the ship with small crowds.


The ship itself is an interesting intersection of technology. It is a sailing ship - wind on sails move it - but it's made out of steel. Ropes control most of the sheets but there are steel cables keeping the masts under tension. It has two massive wooden wheels, but it also has computer controls.


The ship is used for training. The crew was mostly young adults who were on an adventure around the pacific. Almost every one that we saw was glued to their phone, texting like mad. I suspect they have good internet in port - out in the ocean, internet is probably scarce.

The kids had a good time on the ship!

West of Main Art Walk
On Sunday afternoon I we had some time so we decided to check out the West of Main art walk. We started with Kitsalano House where there were 13 artists showing under one roof. Amazingly, we found parking nearby and headed inside. What was once a church was now an open floor with little booths segregated for each artist. Most of the artists were painters and we found a selection of art cards to buy. The kids were excited (something to do with treats at some of the booths) so we got back in the car and headed for houses where you could visit an artist at a time.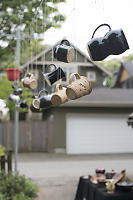 The first stand outs for me was Lesley Bohm - working mostly in watercolour and sketching, she had nature scenes and lots of botanical details. I was really inspired by here drawings of BC native orchids - plants that I have seen pictures of but never seen in the wild.

Our second great experience was visiting Jacqueline Stanford. She is a potter and had a great presentation of her work. She kindly showed us her studio and the kids were thrilled to get cookies.
The kids were really impressed with the work of Susan Fraser-Hughes. The kids appreciated her charcoal drawings and really paid attention to how the drawings were made. They were rewarded with a stick of charcoal in a plastic bag which they put to good use when they got home.


We only visited for a few hours overall, but it made for a fun afternoon!


Victoria for the May Long Weekend
The kids school had a pro-D day for the Friday before the long weekend. Rather than having my mother come over and Babysit for that day, we packed the kids up on Thursday night and sent them to Victoria for a super long weekend! We joined the kids Friday night after a leisurly day at the office and not very busy ferry ride over.

Claira said she wanted to go to the beach in Cordova bay and the tide was somewhat low in the morning so we drove down to play in the sand.




This weekend Victoria hosts a big parade but they also host a highland games - a celebration Scottish and Irish culture. We go to lots of Chinese themed events but Scottish or Irish events are harder to find.





Sunday we had an open schedule so I decided a walk around Spectacle Lake would be fun. The lake is a BC park and pretty close to Victoria - maybe a 20 minute drive. We packed up the kids and drove out for a look see!


The hike starts with nice views of the lake and then goes into the trees as you come around. The internet says round trip distance is about 2km and mostly flat (with some sections with lots of roots) so it seemed reasonable for kids and a grandma.


Secretly - I actually went to see the blooming flowers! iNaturalist told me this was a good place to see Orchids which I haven't seen in a few years. I was rewarded almost as soon as we started - Fairy Slipper Orchids were popping up just off the trails. I was also surprised to see Spotted Coralroot - an odd looking plant also coming up in various locations close to the trail.



The kids enjoyed the views.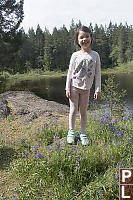 In hindsight, leaving the cookies in the car was a mistake. Apparently the best plan is to bring gummy bears and given them out frequently but in small doses. I'll have to try that next time.

Outerbridge Park
Outerbridge park is just around the corner from my parents house. I like to go for a walk there when the parent to kid ratio exceeds about 0.5. The park has a good collection of birds, flower and sometimes mammals. This time I was really luck to see a hummingbird fly into a tree (not the top) and stop. I've seen this behaviour before - in a few minutes, I found a hummingbird sitting on it's nest!


---
Tags: ship(5), public tour(4), Outerbridge Park(4), bird(4), nest(3), face paint(3)
People: Claira(9), Nara(9), Janet(1)
From: John Harvey Photo > Blogs for 2023 to 2005 > May 2019

Last Modified Sunday, January 22nd, 2023 at 00:04:20 Edit
Copyright and Contact Information.