July 2012
People coming to visit

---
Grandma comes to Visit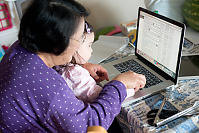 We have a new Baby so it's pretty important that we keep lots of attention on Nara (our first) so that she doesn't feel left out. That often means lots of getting out and doing things time.


Millards Come to Visit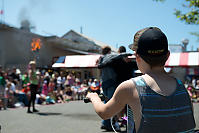 You get a new Baby, it seems everyone wants to come visit! The Millards happened to be in town just after Claira was born so they stopped by on their way back to the Island. We had some time so we went down to Granville Island for some lunch. Just had just purchased a new bike so he had to try it out on the way down. It was one of the few times that I've seen Justin keen to have his photo taken.

Granville Island Water Park
We live next close to Granville Island and on a warm summer day the water park is a great destination. The Williams came over to see the baby and we again went down to Granville Island to grab some fun and a bit of snack.

It's fun walking around with the little guys - they Nara and Marcus seem to get along fairly well.

Birds on the Deck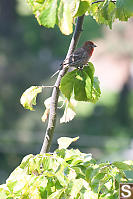 I got three weeks of Parental Leave when
Claira
was born. It's been beautiful weather so I spent some time out on the deck holding the kid. Every once in a while you see a bird - the small birds I don't normally photograph because they are tool small and too far away.
Xander and Family Come to Visit
We put the call out for friends to come over and Visit and Eric, Gabi and Xander were the first to reply. The Jone's just bought a new shiny car in the morning so we can claim to be the first to see their new car. Xander is a real cutie and seemed to enjoy playing with some of Nara's toys. At one point he was seating by himself while his parents looked at Claira. He turned around to find his parents, found them missing and then turned back to continue playing. He's a good kid.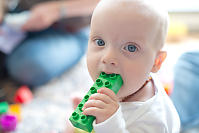 Summer Lantern Festival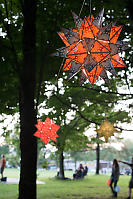 I have a little wiki page of highlights of things I would like to do this summer. The Lantern Festival was the first such highlight I wanted to see. I went to the
Lantern Festival back in 2009
and the weather was unforgettable - we had rain just before sunset, but the clouds cleared near sunset and we got the most amazing sky colours. Not so much luck this year, but just getting out of the house was a happy enough event.
We had Nara with us so we had to arrive earlier and leave earlier than we normally would. That has some positive side effects - we actually got decent parking because the place wasn't yet crazy full. There was enough day light that we could take daytime photos of people.

We didn't stay late enough for the lanterns to really shine, but we certainly got a taste of what was going on. Nara started saying "Lantern" a lot and tried her best to behave. She was in bed by 10:30 and slept in late on Sunday.


Whytecliff Park
In my youth, I went
Scuba Diving at Whytecliff Park
. It's been many years since I've been there and the park combines a few attributes that makes it good for parenting - there is something for the parents to do that isn't mind numbingly boring, there is a playground and there is plenty of parking.
First we went down to the beach to see what we could see. This spot is still popular with the scuba divers so there was lots going on. I considered walking over to the island but not knowing the tides and having a small child, it seemed like a bad idea. We walked up to the trails and visited the lookout to watch Howe Sound go by - a great place for a snack.



After snack we hit the playground (some good swings) and then drove home. A good way to use a weekend morning.

---
Tags: Granville Island(11), water park(8), lantern(4), Whytecliff Park(3), bird(2), bench(2)
People: Nara(14), Justin(5), Marcus(4), James(2), Xander(2), Kayla(1)
From: John Harvey Photo > Blogs for 2020 to 2005 > July 2012

Last Modified Sunday, August 26th, 2012 at 15:37:45 Edit
Copyright and Contact Information.