August 2005

Love the Summer

---
A Day at the Park
Warm summer weekends with out much planned - what could be better? After a morning filled with errands, I called Gabi and Eric and got an afternoon under way. In broad strokes we went over to Eric and Gabi's house had lunch and then went for a walk in Stanley Park.
Eric and Gabi's apartment is in the West End - it's the oldest apartment building any of us live in, probably dating from some time in the 70's. The layout isn't particularly innovative (the kitchen is completely isolated from the living space) but Eric and Gabi have done a lot to make it a beautiful home - they are the people I know who have painted their rental.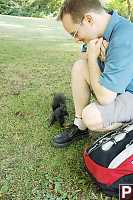 From Eric and Gabi's, the walk to the park is easy. They walk through quite a bit so they know some good routes.



We passed lost Lagoon and our turn around point was Beaver Lake. I only brought one lens - my 12-24mm wide angle. It isn't the best lens for portrait work but for any kind of scenic it makes life easy. Unfortunately, it's just terrible for wild life or any type of flower work and Beaver Lake really made me wish I brought more lenses.



Oh, and it was Mark's birthday this month...


---
Tags: Stanley Park(3), beach(1), Vancouver(1)
People: David(3), Eric(2), Mark(1), Michael(1)
From: John Harvey Photo > Blogs for 2020 to 2005 > August 2005

Last Modified Tuesday, June 9th, 2009 at 01:05:29 Edit
Copyright and Contact Information.