September 2014
And the days are getting shorter

---
Last Day at the Granville Island Water Park
The Granville Island Water Park runs from the May Long Weekend until Labour Day. Today is Labour Day - last day. It has certainly been warmer this summer but it wasn't exactly cool today. We arrived at 10am when the park opens and shortly after the water did start running but not the water slide. This has been Nara's first summer on the waterslide. At the start of the summer she was too short for the 3 foot six inch height restriction to ride alone but we were hoping that she had grown tall enough to now ride by her self. Of course shouldn't be riding unless the water slide got started. While we waited for the water slide, our kids had the whole water park to themselves.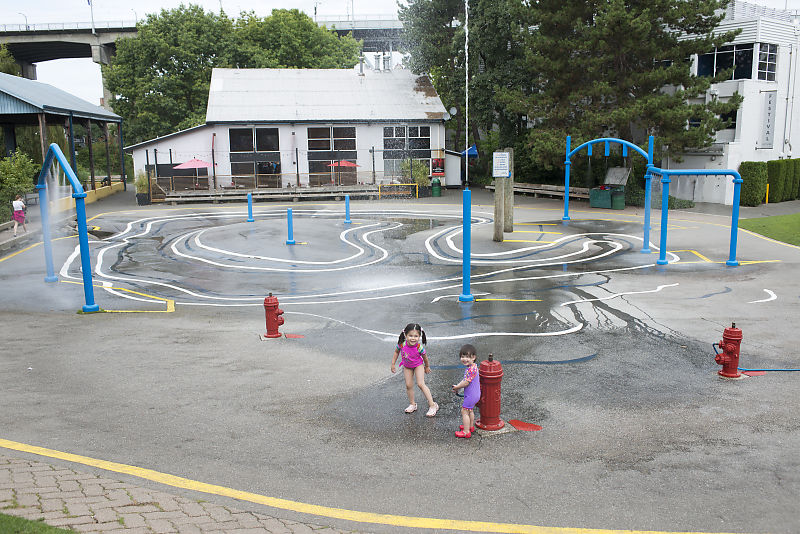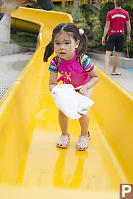 Waterpark, playground and sand box are all good, but by 10:30 we were wondering - why isn't the water slide running? Turns out there was a big rain storm yesterday (the first in weeks) and all the sand got swept into the water slide water recovery system. They had to pump out the slide, clean the tank and then fill it again with fresh (very cold) water. Nara got to help clean out the slider after the sand was dumped out of the plumbing. Once the slider was running we had the moment of fate - was Nara now tall enough to ride on her own? Sadly no - just under the bar.


Oh well - Nara was still happy to ride with me. We went down a dozen times - no other kids. When we went for a snack, they actually shut the slide down until there was a kid that wanted to go. By lunch time, the slide was busy with kids.

Richmond Nature Park
Claira naps in the afternoon. That works better if Nara isn't in the house so we get to go out for little adventures. Today we went to the Richmond Nature Park.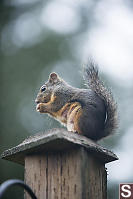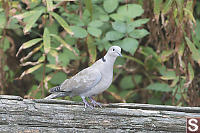 UBC Farm
I really like the UBC farmers market on Saturday mornings. Parking is easy, it's a small market but it's not at all crazy and there is lots of "farm" stuff to do with the kids. This week they were setting up for one of their feast in the fields events so they had lots of non-market related activity going on.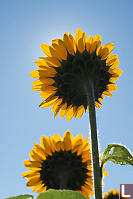 When we hit the flower gardens I couldn't resist stopping for photos. It's been a great warm summer and the first week of September kept up the trend with bright blue skies - harsh shadows but nice contrast with sunflowers.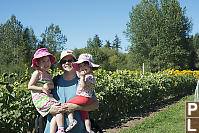 The Pier @ White Rock

We were lucky to get two nice days in a weekend. On Sunday we went out to White Rock to visit with my sister and her family. I didn't know the tide was going to be out, but it was way out so there was lots of sand to play on. Nara just wanted to dig holes but Claira was more interested in exploring the beach. Both Helen and I took her out to the edge of the ocean and back across the pools of water in the sand.

Soon enough the boys joined us and they wanted to dig holes as well. Marcus wanted to find some crabs for his hole so we turned over stones (a very long way from the waters edge) and found a few crabs hiding in the rocks.


Of course you can't stay in bright sunlight all day. Soon enough it was lunch time and we headed back to our respective homes. Thanks for the meet up!

Apparently there was a coronal mass ejection (or two) that was due to hit the earth on Friday evening. We weren't in the "ideal" band and the light pollution is Vancouver heavy, but I thought maybe, just maybe I could see the Northern Lights from my deck. I got outside and could barely see a star - my eyes weren't set up for this task. I set up my camera to take a 30 second exposure every 34 seconds and left it taking photos for a few hours. Below is the video. Short answer - no northern lights.


Playground at Terra Nova, Richmond
Richmond apparently spend more than a million dollars to build a first class playground at Terra Nova Park in Richmond. It is impressive. There are traditional elements (swing and slides), but they are big - the swings are two stories high, have very little rise and a long swing time. The slides are also two stories tall and one is completely enclosed and has a corkscrew. There are two zip lines (which in my opinion are too flat) and an amazing obstacle course. Most importantly to me, it targets kids older than 4. We went the weekend before the real launch (some equipment was still behind construction fences) but this park is going to be busy. We had a great time.


VanDusen Gardens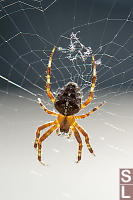 Claira naps and I need to do something with Nara. VanDusen is close by so we often go for a walk. I never really noticed how many Orb Weaver webs there are, but it seems that now (the fall) there is an explosion of them. I didn't know that the orb weaver is an introduced species here (it's from Europe). Nara was really looking for trees to climb - her first choice was a huge rhododendron plant, but I was worried that she would snap off a limb. We found an Alder tree that had be felled - no worries about breaking that.


Bike Riding

Nara is really keen to ride her bike. Her bike has training wheels and small (12 inch wheels) so we are somewhat limited in where we can ride. We have ridden on the sea wall a few times, but Nara gets frustrated with all the slow people (her bike speed is a fast walk for me - she is held up behind people walking at a reasonable speed). At four years old, she is just too young to ride on the streets designated bike routes. I found a park that has a long winding gravel trail and few people so Nara can go fast! It also has a small playground so Nara can take a break from her leg workout to exercise her arms.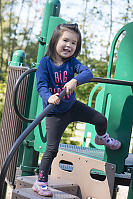 Nara had a good time, but I think the next stage is 16 inch wheels and rubber tires so she can get decent grip on gravel.


Central Park, Burnaby
Most Saturday nights we go out for dinner with Helen's family. Sometimes we visit restaurants in Burnaby and it's always a good idea for the kids to be a little worn out before the long sit at dinner. For those dinners in Burnaby, a stop by Central park gives us a place to stretch our legs.


Today I noticed a small family of ring billed gulls - and adult or two and a number of juveniles. They were behaving as a pack - when someone started throwing bird feed, they flew to that side of the lake and muscled out mallards who got there first. I'm not sure what this bird would eat normally.




---
Tags: Terra Nova Adventure Play Environment(4), Richmond Nature Park(3), backlit(2), water park(2), Granville Island(2), bird feeder(2)
People: Nara(15), Claira(13), Marcus(3), John(2), James(2), Helen(1)
From: John Harvey Photo > Blogs for 2020 to 2005 > September 2014

Last Modified Tuesday, October 7th, 2014 at 22:18:05 Edit
Copyright and Contact Information.