September 2015
Almost all my photos are taken on weekends.

---
Nikkei Matsuri - Japanese Festival
First time event for us - Nikkei place has been putting on a Japanese Festival at the end of summer with a variety of food truck delights, a small shopping area and some activities for kids. Like most cultural things in Vancouver, it was crowded.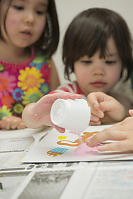 Like a robin attracted to worms, our kids of were strangely attracted to the Hello Kitty room. Thankfully it was a do it yourself arts and crafts project - a sand painting. Basically you get a precut sticker where you peel off areas to receive equal colour and fill in the newly exposed sticky surface with coloured sand. There is some technique to it (do the darker colours first) and different images have different difficulties (number of colours and number of regions).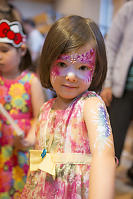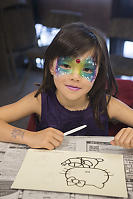 Jesse and Family were at the same event so we got to meet up with their kids. Abby and Haley got in the face paint line before it was completely mobbed - perhaps the best face paint I have ever seen at an event.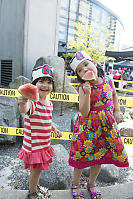 Claira still naps so we had to head home at a reasonable time. There was a woman selling traditional Japanese Popsicles - frozen watermelon on a stick. Given that watermelon originally came from Africa and freezing things on demand is only about a 150 years old, I don't think this traditional goes back a long ways. That said, a dollar a slice makes for a good return on investment - a solid Japanese tradition.

Dr. Sun Yat-Sen Park
We happened to go to Chinatown for brunch and the Dr. Sun Yat-Sen garden isn't far away so we popped in for some family photos.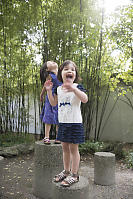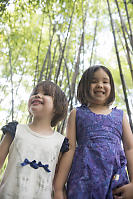 This is a small park and I already have lots of photos of the kids looking at the Koy. I thought I would try and do something with the bamboo to make it look more China. That said, I don't remember a lot of bamboo in Hong Kong.

Happy Birthday Mom!
My Mom was in town to help Nara with here integration into Kindergarten. My Mom's birthday happened to fall mid that week so we went out to a Chinese bakery to get a cake to share. The kids really like birthdays because it's pretty much the only time they get cake (other than trips to Grandma's house).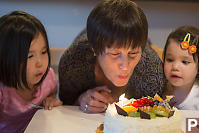 A Day at the Farm in Delta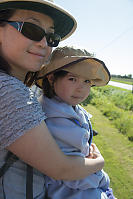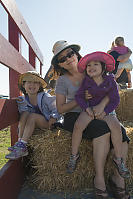 Our weekends are mostly defined by the classes the kids are signed up for. This season we have Saturday mornings free so we decided to drive out to Delta to see their Day at the Farm event. One of the farms we visit quite often (Westham Island Herb Farm) was the center of attraction so we parked in the field and got a tractor ride.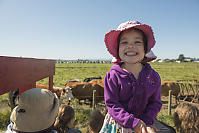 You never really know what the kids will take an interest in. One part of the farm had a "dig your own bag of potatoes" event by donation. Nara was really keen on doing this so with a little help from the parents she was digging up potatoes. It this the discovery of potatoes when the fork tines come up was really compelling.
Tsawwassen Salt Marsh
We were picking up Grandma at the Ferry Terminal so decided to go a little early with Nara so we could go for a walk around the Salt Marsh at the end of Jetty. There is a small parking lot near the marsh (mostly full of taxi's) where we parked an started walking. I was surprised to see rabbits.

There were a dozen great blue herons in various lumps in the marsh but that wasn't my target for the day - I wanted to see if there were Oystercatchers out today. I crested the beach and sure enough - three Oystercatchers were very surprised to see me! I went back to where I was, got my camera read and tried again - the Oystercatchers were still there.


Nara was curious about what I was looking at so she popped up next to me. The Oystercatchers didn't like that so much so they fled. Oh well. We went back to the car and picked up Grandma from the ferry.

Gastown
Looking at photos of Vancouver on Reddit, I saw an image of the hotel Europe (our mini version of the flatiron building) in gastown. I lost the page, tried to find it again and couldn't find it a second time. Co-incidentally, there was light rain on the weekend so I thought I would try to create a similar image.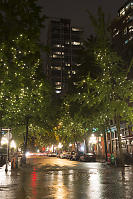 Saturday night is not a good time try and take photos in gastown. There are a dozen clubs and a never ending stream of taxi's double parked in the streets. Trying to get a photo of the hotel was an exercise in frustration as one taxi left only to be replaced by another dropping off. In the end I wound up seaming two images together to get an image without a taxi.


It was a fun night, but next time I'll try going mid week.

Richmond Nature House
Nara had Chinese class in Richmond on a Sunday morning so I had Claira for a few hours. I'm a big fan of the Richmond Nature House/Park so went for a walk on the boardwalk to see turtles and birds. A first for me, I spotted a Garter snake in the leaf litter. I took a photo, changed my footing and the snake took off.

After we completed our loop (and watched the squirrels) we headed over to the Nature House to see the bees. I was surprised to find today was a special event - a live insects show! Claira does like spider webs and bees so it wasn't much of stretch to scorpions and tarantulas.



We had such a good time, we brought Nara over after her class was done.

Stanley Park looking for Cormorants
It was a rainy Sunday afternoon and the kids just wanted to stay in and do crafts. My wife gave me a pass to run around Stanley Park and try to find Cormorants while she did baking with the kids. My first stop was Brockton Point Lighthouse - there is a large kelp bed with a good view from the sea wall and I figured it was a good place to get a shot. Sure enough there was a cormorant. I went back to get my camera out of the car (you can see my mistake) and the bird was gone. Cormorants are diving birds so I waited around for about 10 minutes to see if it had gone for swim and popped up somewhere else - no luck.

I know there are usually Cormorants on the pier of the Lions gate bridge. I moved the car and went for a walk. The first thing I see is a bald eagle hauling a fish back to a tree in the park. It was great to see the bald eagle, but I don't think the Cormorants were too thrilled - they promptly took flight from the water.


I got back to the car and decided to go visit Beaver Lake while the sun was setting. I happened upon a small flock of wood ducks - colourful birds for the colourful light. I tried to remember two things I'd recently seen in a video - get low so the angle is more "as an equal" rather than looking down on the animal and look for different angles in the light - move to change the contrast.



I didn't get any nice photos of Cormorants but I did have a good afternoon.

Renfrew Ravine Moon Festival
There are a lot of smaller events in Vancouver that really show the spirit of a neighborhood to come together. This is my second year at the Renfrew Ravine Moon Festival and this year we go here early enough to join the parade for it's walk to the lantern lit park. You can hear the band well before you see the parade and the kids were quite happy to be able to go in with everyone else.


After walking a few blocks we met got to the park next to the Renfrew Community center where all the lanterns are setup. There are a number of areas you can walk around - some busier, some less busy. We picked the West side of the creek which was initially quite empty so it was easier to take photos and talk to the kids.



The first time I went into the lit up ravine part of the walk I was in wonderment at all the lanterns lighting the park up. This time I knew a little of what to expect - it turns out that many of the lanterns are recycled year to year. I was really impressed with the light wire logs this year - someone spent a lot of time modeling the shapes you expect to see in a piece of wood.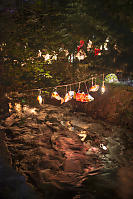 I saw lots of people trying to take photos with their phones - I think the SLR on tripod is a winning combination. That said, the contrast is so high I often had to rework the images quite a bit from RAW to get a pleasing set of highlight details as well as shadow content.
>
The kids had a great time and didn't want to go home. I wanted to stay a little longer and try and get some portraits, but maybe that can wait until the kids are a little older and can stay up a little later.


---
Tags: Renfrew Ravine Moon Festival(7), lantern(7), Vancouver(4), Richmond Nature Park(3), night(3), Gastown(3)
People: Claira(12), Nara(11), Janet(2), Theresa(2), Abby(1), Haley(1)
From: John Harvey Photo > Blogs for 2020 to 2005 > September 2015

Last Modified Wednesday, October 7th, 2015 at 21:57:05 Edit
Copyright and Contact Information.