November 2018
New Places

---
Lumiere 2018
November is a hard month for photography. You are generally mourning the passing of long summer days and the days of endless rain. In reality, sunsets just happen sooner and the water provides no end of reflections and mood. This year I found "Lumiere Vancouver" - a downtown event happening three nights. The first two nights had hard rain so we decided to go on Sunday night after a quick dinner at Red Robin.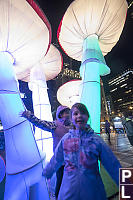 Lumiere is actually at three different sites downtown but we only visited the art gallery location because the kids had to get to bed. The plaza had a number of different displays, most of which were interactive. The mushrooms had a game going behind but the kids enjoyed being dwarfed by the changing lights.

Of course every kids enjoys fire! One display was a ride on dragon which would blow fire (from a propane tank) when the kids pulled on a leaver.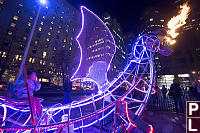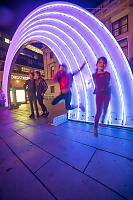 Other light stations were more "do it yourself". The colours changed and the kids danced.



The last station we visited was basically a crazy Instagram filter photo station. You crawl in and let the mirrors and lasers make an image from a rock and roll album in the 70's. It had the longest lineup of all the stations at the Art Gallery Plaza.

Victoria for the Remembrance Day Weekend
Remembrance Day fell on a weekend this year so we had a long weekend. My mom had already agreed to have James over this weekend (Marcus had a hockey tournament in Vancouver), but everyone agreed it was okay if we joined the weekend. Amazingly, I lived in Victoria for 5 years and never went to Fort Rodd Hill. We decided to go for an afternoon and check it out!


Fort Rodd Hill is a retired military site built up before world war 2. It has two massive gun emplacements to defend the entrance to the harbour and generally keep hostile ships well away. The fort is set just behind a hill so it would be quite hard to spot from the ocean. The original military hardware is long since gone but they did have mobile anti aircraft gun that the kids could play on.



Fort Rodd is really a two in one activity. Once you get past the fort, you find Fisguard Lighthouse at the end of spit of land. It's so improbable that you feel compelled to go visit.

The lighthouse is in great shape - nicely painted and the adjoining house has exhibits showing ships and why the lighthouse was built. You can't walk up to the top of the lighthouse, but you get a pretty good sense of what it would have been like to be a lighthouse keeper on a small island.


Hiking to Mystic Beach


The trail has two parts - a twisty trail that joins an old road. Once you are on the road it's a pretty straight shot until you get to the cliff tops overlooking the beach.



The beach has a waterfall crashing over a cliff into the ocean.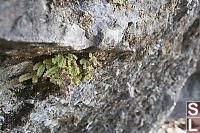 East Side Culture Crawl
I've really grown attached to the East Side Culture crawl. There are so many locations that even though I have been going for years, every year I find new spaces and compelling artists.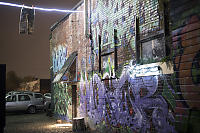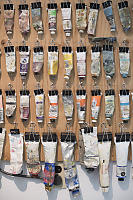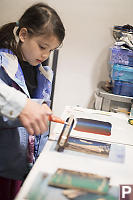 Claira Learning To Fly
Claira really surprises me some days. She just started cutting and taping paper and she made herself a wing. When it fit, she made a second one. Then she tried it out with a test flight. She was obviously quite proud of herself.


---
Tags: Eastside Culture Crawl(11), Lumiere Vancouver(9), night(7), art(5), lights(4), art crawl(4)
People: Claira(13), Nara(10), Helen(5), James(4), John(1)
From: John Harvey Photo > Blogs for 2021 to 2005 > November 2018

Last Modified Wednesday, February 27th, 2019 at 22:16:59 Edit
Copyright and Contact Information.