Manning 3
Get out of town for a day.

---
The Covid situation was basically 100% lock down since March. The kids had some school because Helen is a front line worker (works in a hospital) but even they were going stir crazy doing exactly the same thing every day. The restrictions backed off and Helen was working so I decided to drive up to Manning Park for a day to do a little hiking with the kids. Of course I've been to Manning before (
Manning Camping
from way back,
Manning Camping with friends
,
Manning Camping with kids
and
Manning Day Trips
) but it had been a while so a great time to go!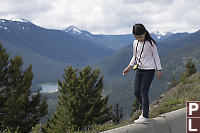 Of course, I should have done my homework a little better. I went up June 21st but the Alpine doesn't actually open to until the July 1st weekend. I had a chat with the boat rental guy and he mentioned the previous weekend they counted 5 black bears with cubs in the Alpine area so I understand why it wasn't open. We stopped at the outlook and took in the view! There are quite a few animals up here that make a full time living eating handouts from people who drive up.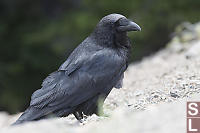 I was a little saddened to see people open bags of trail mix to feed the birds, but I turned around and my kid had bummed a handful and was feeding a Clark's Nutcracker. The Clark's nutcracker knew exactly what to do to get treats. These birds are in the Corvidae family - the same family that includes Crows and Jays.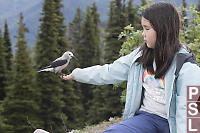 While there are no obvious trails from the view point, there are plenty of alpine plants growing roadside. Many of these plants grow low to the ground in mats to avoid the wind from stripping their water.


A few of my favorites - stone crops and spreading Pholox were easy to find. I didn't have much luck getting the kids interested - they wanted to play with the squirrels.



We had lunch and then drove to the Lightning Lakes day use area. Even though it was a nice day, the parking lot was at most 30% full. The kids saw the lake an immediately wanted to go swimming. I got their wet suits on them and they found out how cold a lake you can ski on in the summer is in June. It's cold!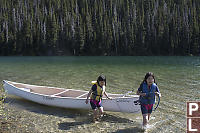 We have canoed this lake a few time so we rented a canoe to give it a go. There was a steady wind coming down the lake and with heavy me in the back and to light kids in the front, I was unable to keep the canoe going into the wind to go up the lake. We paddled back and forth a few times, but eventually had to beach and walk the boat back to the rental stop.

There are other things to see at the lake side. Near the car I spotted a deer eating grasses. In the field there were several Columbia Ground Squirrel colonies. The kids wanted to share their afternoon snacks with the ground squirrels. I hope carrots are okay for them - they have to be better than other snacks people were giving out.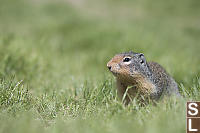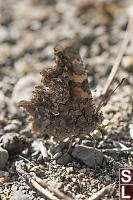 We were driving out, but there was one last stop I wanted to make - visit strawberry flats to see if it is still under snow. We did find a bit of snow on the trails, but we also found a butterfly! I've seen the Satyr Comma at Manning Park before, but it always nice to see a native butterfly going about it's day.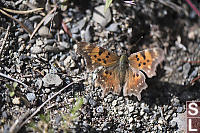 The kids wanted to get home so we packed up and hit the road. We grabbed some take out in Hope and made it home for a regular bed time.

---
Tags: hand feeding(2), bird(2), lake(2), insect(2), butterfly(2), deer(1)
People: Claira(5), Nara(5)
From: John Harvey Photo > Blogs for 2021 to 2005 > Manning 3

Last Modified Sunday, November 22nd, 2020 at 15:38:01 Edit
Copyright and Contact Information.