Kealia Pond

Use up that jet lag

---
Hawaii is a few hours west of Vancouver so you find yourself waking up a little earlier than usual. Sure, you can do the sleep in thing, but a lot of Hawaii is really interesting at sunrise so why not take advantage? We had a rental car and Kealia Pond is only a few minutes drive from our resort so I left in the morning while everyone else was sleeping.

It's really hard to argue I'm not a birder. As far as I can tell, when birders travel, they want to have a few lists - what are the endemic birds (and where to see them) and where are the birding hot spots (and what do you look for). I didn't do a lot of research on the first - Hawaii has lost a lot of amazing birds, but still has a lot of treats. The second - where to the hot spots are - is easy to work into a trip. Kealia Pond was one such hot spot and it lists two interesting birds - the
Hawaiian Stilt and the Hawaian Coot.



Kealia Pond makes seeing the Hawaiian Stilt easy - there are potentially hundreds in the area and they are very easy to pick out. Within a minute of getting out of the car, I had a photo I was happy with. As I walked further into the reserve, I noticed Herons - what turned out to be Night Heron's in the trees looking for fish. Night Heron's are like an old friend you keep bumping into - there is a reliable pair close to where I live, but I have also see them in Taiwan and now Hawaii. I'll be happy to see them again some day.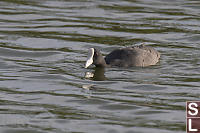 After a bit more searching, I did find a Hawaiian Coot. Small black birds in the water are a little harder to spot, but we have Coots in the lower mainland and the behaviour seemed very familiar.

After that, it's take in the sights. I was surprised to see the local pigeons weren't rock pigeons, but they are invasive.



Not to be outdone, but there were lots of butterflies as well. Being in the morning, the butterflies tend to perch for a few seconds more than they do when they are fully warm.

A few days later we drove by and Helen wanted to walk around. It was about 2 in the afternoon in the heat of the day and there was nothing to see - almost nothing in the ponds and the insects were moving impossibly fast. It's funny how much a place changes over the course of a day.


---
Tags: Hawaii(5), bird(2), boardwalk(1), reflection(1), bird in flight(1), butterfly(1)
From: John Harvey Photo > Blogs for 2022 to 2005 > Maui > Kealia Pond
From: John Harvey Photo > Trips out of the Country > Maui > Kealia Pond

Last Modified Sunday, January 22nd, 2023 at 00:12:02 Edit
Copyright and Contact Information.