Road To Hana

One of my favorite parts of Maui

---
My sister cautioned that the Road to Hana can be difficult to drive and if there is heavy weather high in the mountains, dangerous. I did research about what to see along the route and there was enough that I couldn't figure out how to pack it into a day. I came up with a mixed plan - first do a half day and drive the first half of the road to Hana to see if we can put up with it. If we can tolerate the twisting road, do a follow up full day drive all the way to Hana to see more of the attractions.

Our first stop was Coconut Glens to see the twin falls. This pay parking, but it's real parking. It's a short walk to a trail and there are two falls with pools. We picked the higher one (a bit longer walk) because we wanted less of a crowd. Being our first attraction we spent a lot of time swimming in the pool.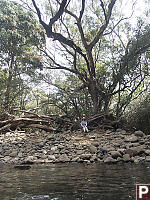 This was our first time breaking out the waterproof cameras and the first time the kids have gone for a swim in natural water since last summer. The water isn't as warm as the ocean, but it's plenty warm compared to swimming in Canadian freshwater. Bring good water shoes - I left my "canyon" shoes in Vancouver and walked in barefoot and some of the rocks are sharp or jam up.


This waterfall exists because of a section of hard rock that looks like columnar basalt. I suspect that this section of rock was slower to cool down and was consequently harder that the rest of the rock around it. This small cliff changed the course of the river to make the deep pool we were swimming in. The hard rock also lead to steps to make it easy to get out of the water and jump in.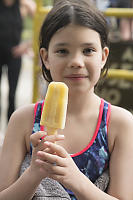 In Vancouver, we would probably spend the whole day at such a nice pool. In Hawaii, we had other things to do. We got out of the pool, back to the trail and then stopped by the farm stand to get a treat.

Maui Garden of Eden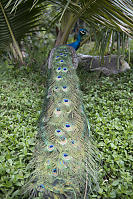 Our next destination was the Maui Garden of Eden. In Vancouver we visit the Van Dusen Gardens every year so I thought this garden would be a good place to visit.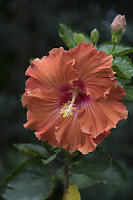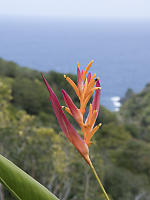 After the Garden of Eden, we turned back and drove to Paia for a later lunch.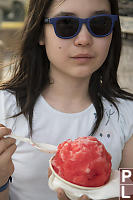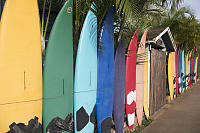 Second Day Trip
Waiʻānapanapa State Park


If you had to pick a single attraction on the Road to Hana that is a "must see", it is Waiʻānapanapa State Park. It is noteworthy for it's black sand beach and Lava Tube but also for how busy it would get. They have put in a reservation systems and we had a ticket for a visit from 10:30 until 12:30. We arrived a few minutes after the window opened and walked down to the beach.


The rock formations here are quite interesting. The area is all lava rock, but there are layers. The top layer is soft and crubles, but the layer below is harder. The leads to small islands and caves just off the coast.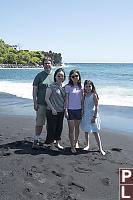 Right off the beach is a small lava tube.




On the road back from the park, we spotted some farm stands. I found a parking spot and took a look.


We drove a few miles further to Hana to get lunch. Our plan was to stop at the Thai food truck, but the truck was closed that day. We were already parked (the other choice was huli-huli chicken at the Koki Beach Park) so we all got something different at different trucks - Claira got a hot dog, Nara got Taco's, I got a veggie sandwich and Helen found a fish dish. The drink hut was by far the busiest and good good reasons - there drinks were top notch.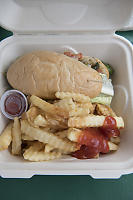 Hana Lava Tube


When we were planning this trip, Nara identified the Hana Lava Tube as here highest priority attraction. The parking lot isn't huge so I could imagine getting in on busy days could actually be pretty hard. They recommend 45 minutes to walk to the end of the tunnel and back. They have a nice map and gave us good flashlights and we headed into the tunnel.

The best light is always going to be sunlight. The light falling off from the entrance is fantastic.



We headed down the tunnel and I continued taking photos. There are lots of great signs describing how the tunnel was formed and details about the tunnel. I had my tripod so most of these photos are long exposures using the flashlights for light.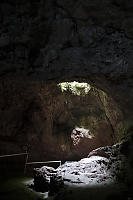 About half way down is a skylight. I really like the light from skylights because they can fill in volumes. We didn't have a lot of time to take photos in the cave, but I'm sure I could have spent much more time down here making images.

After the cave, we drove the southern road back to the central island.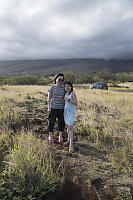 ---
Tags: Hawaii(18), lava tube(6), cave(5), waterfall(3), fruit(2), stand(2)
People: Claira(6), Nara(6), Helen(3), John(1)
From: John Harvey Photo > Blogs for 2022 to 2005 > Maui > Road To Hana
From: John Harvey Photo > Trips out of the Country > Maui > Road To Hana

Last Modified Saturday, January 28th, 2023 at 23:06:12 Edit
Copyright and Contact Information.