Jenny Inlet to Cascade Inlet

---
When we woke up this morning we didn't turn the generator on. We were hoping a bear would have come down to check us out (I slept through it), but nothing came to check us out. We set off for a day of adventure!
Sir Alexander Mackenzie Monument
I knew we were going to cascade inlet - but I didn't know about the monument. We stopped and tried to drop anchor (it's deep and windy). Not being able to anchor, we took the Zodiak in to the little bay and started exploring.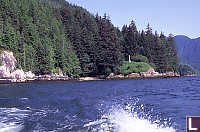 The most obvious part of the site is the large monument the government erected in 1926. Some maintance must be done here (
it's a provincial park
) because there is a trail down to a carving in the rock: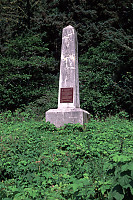 The carving is very cool - Alexander MacKenzie was the first westerner to travel to what would (in less than a hundred years) be the province of British Columbia.

I was sad to find out when I got home that the carving wasn't actually made by Alexander MacKenzie. It was carved by surveyors years later. Another notable monument is this petroglyph. Alexander MacKenzie came here by boat with native guides. He was hiking on what is now know as the "Greese Trail", a trail used by the natives for transporting eulachon (a small, smelt-like fish) grease.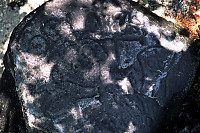 Having seen everything here, we returned to the curve of time and traveled to Cascade Inlet.
Cascade Inlet
Cascade Inlet it well named - it's a steep sided valley that is long (25+ kilometers), deep (well over 1000 feet in places) and straight. The walls are covered in trees (where it isn't too steep) and spectacular waterfalls crawl down from the ice fields on the nearby mountains. We drove up the inlet until we were about 4km from the end. We put the Kayaks in and paddled to the end.
Some parts of the inlet show the glacial sculpting dramatically. Valleys formed by erosion are mostly V sharped and has a most regular decent to the ocean. This valley is U shaped (from being scrubbed by glaciers) and ends abruptly where the glacier joined the larger glacier that formed Cascade Inlet.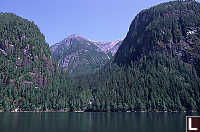 We paddled down the Inlet to the end where the Curve of Time was anchored. We had an enjoyable dinner and went up on deck to enjoy the evening.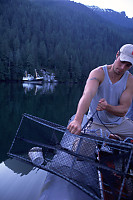 Mike went out to place a prawn trap and I tagged along to see something new. The prawn trap was put in 300 feet of water (Prawns like it deep).
Back on board we enjoyed a wonderful sunset. Being in a deep valley, you see the light change to orange on the mountain tops and then the light slowly gets darker and blue'er.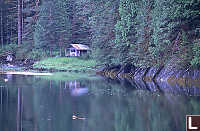 Well into dusk we saw some motion at the hunting cabin at the end of the inlet. A small (yearling) Grizzle bear was making noise and eating grass. We watched as he walked over the ridge behind us and came to a clearing that overlooked our position. The bear seemed to scratch his face and neck on the tree and then moved on to the beach. Being past sunset the lighting was tragic, but you can see the progression.
Next: Eucott Hot Spring
---
Tags: coast(6), waterfall(3), monument(2), rock(2), sunset(2), reflection(2)
From: John Harvey Photo > Mid Coast of BC on the Curve of Time > Jenny Inlet to Cascade Inlet
From: John Harvey Photo > John's Overnight Page > Mid Coast of BC on the Curve of Time > Jenny Inlet to Cascade Inlet


While serving on board HMCS Mackenzie in the early 1970s whose primary mission was training junior officers in navigatio we went to Mackenzie monument every year and landed a party to clean it up and make it spiffey once again. It appears that with the decommissoning of the ship this annual foray is not conducted any more.

John Crockford
Wednesday, March 13th, 2013 at 17:52:32


Last Modified Saturday, January 21st, 2023 at 23:39:04 Edit
Copyright and Contact Information.