Petgill Lake

Something to do on a Sunday

---
This hike has a few things going for - it's fairly close to Vancouver (you park at Murin lake, before Squamish), it is apparently open more of the year than most hikes and there is a lake. The reality is a little less ideal - the Park lots charges for parking, most of the hike is in the trees and the lake isn't much to at. But it was something to do on a Sunday.


The hiking environment is quite similar to parts of the chief - forest so thick that the forest floor is nearly dead and large rock outcroppings emerging to break up the forest.




Because there aren't views to Howe sound (save one), most of the beauty is in the details. This forest was logged sometime in the last 50 years (says this uneducated forester), so much of the life is at the same stage. A few trees that had died became sources of living space for shelf fungus.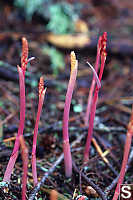 Other parts of the trail were showing other specialized plants. In a springy bed under pine trees we found (once) a stand of an orchid - way to early in the season to see flowers. In a wet place on the trail, I found some beautiful violets just about under foot.


As we got near the lake we found a boggy bit with a large bloom of Skunk Cabbage. Seeing so many yellow flowers at the same time was quite a surprise - I didn't know the plants all come into bloom at the same time, but it only makes sense.



Once you get to the lake, you are kind of, well, underwhelmed. The view of the mountains (when the clouds weren't obscuring them) was nice, but not that much more that what you can see from your car about 4 hours ago. The lake is tiny and isn't particularly inviting - lunch was had on the cliffs overlooking. Not wanting to miss anything, we explored a side trail which I suspected circumnavigated the lake.


I was glad I went to the effort - the trail actually lead to a spectacular view point showing Howe Sound from it's mouth to Squamish. It's similar to the view from the
Stawamus Chief
and the chief is a shorter hike, but often very busy.


We hiked down, remembering the view as we hiked. Round trip was about 6 hours (including lunch) and we felt the work out when we were done.

---
Tags: flower(3), mushroom(2), rock(2), vista(2), field(1), stream(1)
People: Jesse(1), Jin(1)
From: John Harvey Photo > John Harvey Photo - Hiking > Petgill Lake


I first saw Murin lake with my kids 5 years ago when we came to Squamish on hols from Scotland. Stunning!!! Best 4 weeks we ever had!

Sara
Saturday, March 22nd, 2008 at 18:43:10

Thanks for the write-up, going on this hike tomorrow, I now have lowered my expectations but that's probably a good thing :) cheers.

Tony

Friday, June 20th, 2008 at 23:06:51

I did the petgill trail from the shannon falls parking lot yesterday. The forest trail going up to the top of the falls is well marked. The trail going to the top of the bluffs is also well marked. There is a considerable amount of up uphill slogging. At the bluffs a diamond marker leads on to a trail following a ridge line well marked. When you come out of the forest onto an old logging road in about half hours time. Do not proceed any further without a compass, gps, and topo map. The logging road is very much overgrown with many bushes and small alder trees in clumps. Going south shortly you cross Shannon creek on an old logging wide road bridge intact sturdy. Serious croching bushwacking continues for at least 1 hr. Then you reach the top of the knoll clearing with views of the Sky Pilot range. The trai is marked with ribbons. Continue south following the creek gully to a log jamb and keep following the creek until you reach Petgill Lake. This is not your typical stroll hike there is some seious bushwacking but well marked along the way. Wear long sleeves and pants and be prepared to take your pack off and bring gear for a possible overnight.

Toni S.
Sunday, May 31st, 2009 at 19:26:43


Last Modified Saturday, January 21st, 2023 at 23:41:54 Edit
Copyright and Contact Information.