Beaumont Provincial Park
Far from the Ocean

---
Previous:
Farwell Canyon
We woke up in the morning West of Williams lake and the plan was to drive up to Prince George and then West to Beaumont Provincial Park. We had a plan to stop for a horse back riding trip just South of Prince Rupert at El Shaddai Ranch.
El Shaddai ranch is basically an owner and his 6 horses. The ranch is somebody's fail "off-grid" retirement castle - they built an amazing log cabin but didn't get a roof over over or the logs sealed so the logs suffered in the elements. The building has been finished to a barn but the lots are so damaged it would be hard to bring it up to the standard of a house. The owner has a variety of horses that ride frequently so they seemed pretty good with kids. The ranch has a large number of acres but borders onto provincial land they extends the trails for many km more. We started with a walk in the forest.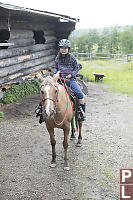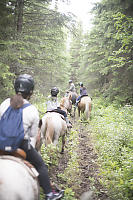 The neighboring provincial land is the left overs from a giant highways project. They widdened the highway to two lanes, made it flat and then built a weight scale in the middle. They were left was a massive ammount of fill that had to be disposed of so this land was purchased and loaded. That was probably 10 years ago so the artificial hill of dirt has grown a thick cover of grass but the trees haven't started growing in yet. Being on a ridge, the views are great.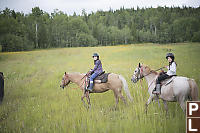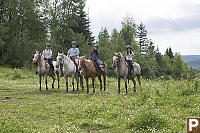 We circled back and got a family portrait in.


Once we got back to the barns the kids didn't want to leave. There were some compressed oat pellets as treats for the horses while all of saddles and bridles were removed. The kids had a great time.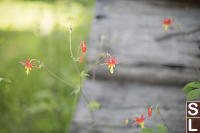 After our horse back riding trip, we got back in the camper and drove North to Prince George. We decided to stop in at the local Red Robbin to get dinner (and free Wifi!) before making the last two hour trip west to Beaumont Provincial Park.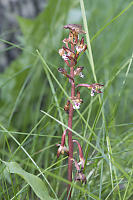 The plan was a "low activity" day here - riding bikes, go for a swim and maybe get some groceries. One of our problems with firewood. BC parks campground rangers often sell a load of firewood for about $10. Because of COVID, the park was closed in the spring and didn't order bulk firewood then. When the park did open, everyone else in this part of the world was preparing for disaster and had already ordered the following winters load of firewood so there was no firewood to be bought on the open market. Long story short - we drove to the nearby RV park and they sold a wheelbarrow full of wood for $10.


Fraser Lake and Beaumont provincial Park is quite nice - reasonably warm with a sandy beach that remains shallow for quite a while. The night before, our kids kindly explained to use that they wanted "floaties" and a water guns so we stopped at Walmart in Williams Lake and found pool noodles and water guns. Of course the water guns are for spraying dad.



After dinner, the kids wanted s'mores. With our new found firewood, we got a first going and the s'mores preparation happened. You could probably do a passable job using the grill in the microwave oven in the camper, but there is something about using a real live camp fire to make food. I spent most of time taking in the Aspen forest behind the camp sites - our coastal campsites are in forests don't look anything like these trees.



I had a plan to stay up late and do a timelapse from the lake side. My phone told me that sunset was around 9:47pm so I started around 9:03pm and took a picture every 15 seconds for 366 photos going to 10:35pm. I ran into two problems. Standing by the lake side, there were a lot of biting bugs so it wasn't very fun. Second, this far North, just because it's sunset doesn't actually mean the sun goes down. At this latitude, actual "night" doesn't happen in the summer - you just get various shades of twilight. I was actually hoping to see Comet Neowise but realized it would never get dark enough to actually see it. Welcome to the North.


---
Tags: horse(5), lake(2), stick(1), smoke(1), hand feeding(1), meadow(1)
People: Claira(5), Nara(5), Helen(1), John(1)
From: John Harvey Photo > Blogs for 2021 to 2005 > Prince Rupert Road Trip > Beaumont Provincial Park
From: John Harvey Photo > John's Overnight Page > Prince Rupert Road Trip > Beaumont Provincial Park

Last Modified Saturday, September 4th, 2021 at 15:55:45 Edit
Copyright and Contact Information.