Farwell Canyon

First night in a RV!

---
We rented the RV on a Sunday afternoon with the intention of packing Sunday night and leaving Monday morning. We rented pretty bare bones - we had to provide all of the kitchen stuff and bedding. On the plus side, we had a large collection of camping gear so we just had to move stuff from our storage room to the RV and we were surprised to discover how much extra space we had! We packed jackets in closets, bathroom supplies (16 rolls of special RV toilet paper) and everything else we could think of. We brought our handy non-stick frying pans from our home kitchen and a few jugs of drinking water.

The next morning we got the kids in the camper and hit the road - at 11am!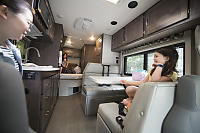 We had lunch in Abbotsford - our RV was too tall to go through most drive throughs so we had to use "curbside" pickup. Our first destination was a rock hounding site I wanted to try up past Cache Creek. We had a brief drive on a dirt road and got to place where we could mine for amethyst!



The rock was easy to find (right at the side of the road), but it was low quality - almost no purple colour and very small crystals. The real problem was the matrix - crystals were solidly attached to surround stone which had very few cracks. The only obvious option is to take either hit the crysal (not a good plan) or follow a big crack and hope you can take off something large. Neither works well.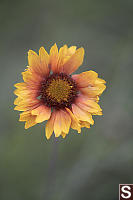 That said, getting off the highway and moving slowly lets you see things you would normally miss. There was lots of cactus in the grass and most of it was blooming. Prickly pear cactus is quite widespread in BC, but this is the first time I've seen it blooming.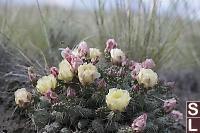 We didn't stay long (We had a long way to go still) so we got turned around an continued North. In William lake we stopped for take out and got to our destination - The historic Chilcotin lodge - around 8pm. They are both a lodge (rooms for rent) and a RV park for a dozen vehicles. We were the only guests for the night.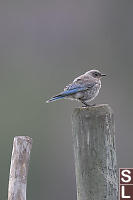 The lodge has relatively new owners and while it's only 30 minutes from Williams lake, you are out of the way here. There is no cell phone signal and the lodge can only get ADSL - 1.5 Mbit or lower. That said, there are birds everywhere and not a lot of city noise.

The owners have horses for their own riding (they don't offer riding services) but they did give the kids an apple each so the kids could feed the horses. The kids were thrilled!




On the road again! We drove roughly 20 minutes to Farwell Canyon and found it empty. We originally thought about just camping at Farwell Canyon, but there are no services and it was our first night so we wanted a bit of a safety net.


The view from the pull out is amazing. The Chilcoot river is chewing its way through the soft sediment which causes steep cliffs and lazy s-bends in the river. The far side of the river has an enormous hillside which has hoodoo's and a sand dune at the top.

From the parking lot you can walk down to an old farmstead (which is probably private property) or out to the cliff edge. We decided to check out the old farmstead to see the view from below.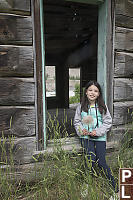 The buildings are log homes that are slowly returning to nature. You definitely don't want to go inside and the wood is likely rotting.



There is a field and an old apple tree which is still hanging on. We spotted birds and butterflies calling this place home.



Back at the vehicle, we walked out to the edge of the cliff. In theory you could walk down to the river, but I'm not a big fan of walking down steep sandy slopes as you might not be able to walk back up!



I really wanted to see the sand dune and the view from the top. There is quite a nice trail with a trail head about a km back towards the highway. We parked, loaded up our water and started walking!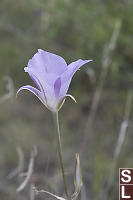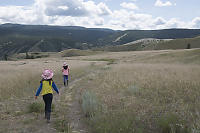 The hike is about 2km there with 160m of elevation change (says AllTrails) - my little GPS says the elevation at the start and end are almost identical. Most of the hike is on vehicle level roads, but there are some parts climbing steep sand slopes where progress is really slow.


The view from the top is amazing. There was a constant breeze blowing sand up from below so the patterns in the sand were untouched. The front (river facing) side of the sand dune isn't steep so there isn't a risk of falling in and becoming trapped.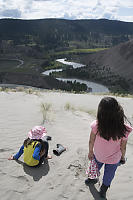 We stayed at the top and appreciated the view of the river (and drank water).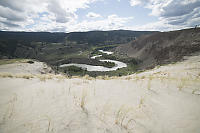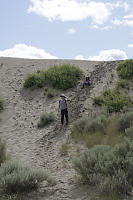 But all good things - we decided to return back the way we came. Going down a huge pile of sand is much faster than going up. By the time we got back to the camper, we still had a few sips of water in the water bottles. The air conditioning in the camper was really really appreciated.
---
Tags: derelict(3), sand(3), fence(2), horse(2), hand feeding(2), rockhounding(2)
People: Claira(4), Nara(2)
From: John Harvey Photo > John's Overnight Page > Prince Rupert Road Trip > Farwell Canyon
From: John Harvey Photo > John's Overnight Page > Farwell Canyon

Last Modified Sunday, January 22nd, 2023 at 00:07:29 Edit
Copyright and Contact Information.