Tofino, Hot Springs Cove

A few days shacked up in west coast paradise
---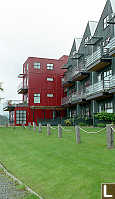 It all started Monday - we had somehow forgot the upcoming weekend was a long weekend (Victoria Day) and we wanted to get out of Vancouver. Sean looked at the Georgia Straight for accommodations out of Vancouver (initially Bowen of the Gulf Islands) and he found this great condo in Tofino, on the west coast of Vancouver Island.
Once we booked the place (and just in time! two more calls came just after us) we got the herd moving towards a weekend out. We narrowed it down to 8 comitted people, came up with a menu, made driving plans, tried to get ferry reservations (good luck!) packed and Friday afternoon we drove our way to Tofino.
The place turned out to be amazing. Not only did it comforably sleep 8 (6 in beds!), it had a well setup kitchen, enough space for a good all of us to play cards and plenty of west coast (Ikea) style. Downsides? We ran the hotwater tank out, and the wine glasses were trick exploding glasses. (Ooops).
The condo itself is located on the water in downtown Tofino. I'm guessing Tofino has a population of 2000 and a few hundred tourists in high season (not when we were there). The view off the deck showed the practicle aspects of the community - boats were coming and going, the dock was being used.
Our first morning we went to Chesterman beach. This beach is facing the open Pacific Ocean and is wide and flat - great for a stroll. We walked out an exposed spit to Frank Island (which is only an island at high tide) and scrambled over the rocks.
After a morning on the beach we walked around Radar hill and then the galleries and stores in Tofino. Sean picked up some Crabs for dinner and preparing them (we are city people) turned into a bit of a spectical.
Every second "what to do in Tofino" advertisment features Hot Springs Cove.
Kim and Andy
went their as part of their honeymoon. We simply had to go. To get there you can take either a 20 minute plane ride or an hour long boat trip (it's 37 km northwest of Tofino). The boat trip cost us about 75 dollars.
Once you are on land (Openit Peninsula, but part of Vancouver Island) you go for a long walk down the board walk. This is a pretty delicate environment - both steap and always rained on. A densly used trail (and you will see lots of people) would cause extensive damage before becoming an impassable mud bog.




The hot spring announces it's presence with it's sulfur smell and and clouds of steam. The spring is hot (51 degress C) and flows fast. They day we were there it was raining and steams were mixing in with the spring to help cool it down.
The population of the spring varies depending on when the tourist boats come and go. When we arrive it was busy but people drifted away durring the day. The lower pools weren't terribly warm (mixing and heating the rocks that were recently covered in sea water). Up from the pools is the shower which is warmer. The water pouring over the lip is both warm and firm (nice pounding on the back and shoulders). Above the lip are a few natural pools great for soaking.
After a few hours in the water we got changed and headed back for the condo. The hot springs at Hot Springs Cove ranks up there with the best (and most scenic) soakes I've ever had.
---
Tags: place to stay(5), coast(4), hot spring(4), beach(3), flower(2), rock(2)
People: Mark(3), Jesse(3), Jin(2), Sean(2), Jeremy(1), Karen(1)
From: John Harvey Photo > John Harvey Photo - Camping > Tofino, Hot Springs Cove
From: John Harvey Photo > Tofino, Hot Springs Cove
From: John Harvey Photo > John's Overnight Page > Tofino, Hot Springs Cove
From: John Harvey Photo > John's Overnight Page > Tofino BB > Tofino, Hot Springs Cove


cool :)

quazimotto
Thursday, February 26th, 2009 at 20:35:35

In reference to your comment about Tofino having 2000 residents and a few hundred tourists, Tofino has over 1 million visitors a year (from what I read in the tourism literature that I receive on traffic volumes). Amazing isn't it!

Nanaimo Hotels
Wednesday, December 30th, 2009 at 15:52:33


Last Modified Saturday, January 21st, 2023 at 23:37:33 Edit
Copyright and Contact Information.