Winter Harbour To Brooks Peninsula

The Far North Western Corner of Vancouver Island on the Curve of Time

---
Winter Harbour
Ahwhichaolto Inlet
As we moved further down the channel the flooding tide carried us fast and deeper down the inlet. At some points standing waves branched off rock outcroppings in the narrow channel. The advantage of floats in kelp (and how strong kelp must be) was made abundantly clear.
We were lucky because Doug (the first mate) used to live in this area and he was doing a bit of advanced reconnaissance to help point out some of the sights. Our first "get out" destination was a nondescript beach in the bay proper.
Browning Inlet to Brant Bay
After a bit of a false path (a road is being pushed through the peninsula and we turned down the future road path) we eventually broke through to the other side and the amazing beach.
Klashish Inlet
On Wednesday it was time for a move. The weather wasn't great for open ocean (the waves were enough to make those of us with the soft stomaches have a hard time) so I didn't get out much for the move. Eventually Jan found us a nice sheltered spot and we spent the afternoon exploring a river by kayak.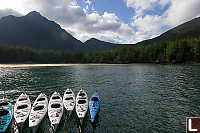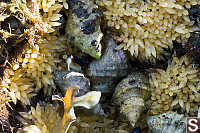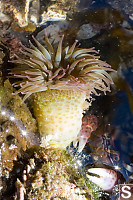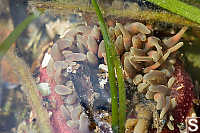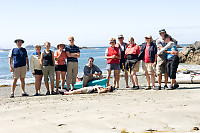 Back to Port
---
Tags: beach(8), coast(6), kayaking(6), BC fauna(5), marine mammal(5), forest(4)
From: John Harvey Photo > John's Overnight Page > Winter Harbour To Brooks Peninsula


I am very interested in the steam donkeys you found. Can you provide any information on the builders, dates or history of these machines? I would like to add them to my list of serviving steam donkeys. John

John A. Taubeneck
Tuesday, April 17th, 2007 at 13:26:51

Beautiful. Will be cruising and fishing this area this summer.

Joe Granacher
Monday, April 30th, 2007 at 16:28:05

I just wanted to say thank you so much for posting these pics of Winter Harbour! I used to live there as a child and I've been dreaming of going back my whole life. Seeing these pictures has brought back so many fond memories.

Brittney
Thursday, March 27th, 2008 at 16:06:16

I used to live in Quatsino Sound as a young person so was very interested to view your images. Thank you for bringing back good memories.

Andrew Schreiber
Thursday, April 3rd, 2008 at 19:35:33

Great pictures, except I would have liked some more information on your locations as you traveled, and your method - where and how did you find the boat that chartered you? Did you rent it? Some friends and I are planning a trip to brooks peninsula. How many hours would you estimate it would take by boat? I would really appreciate any information you might have, thank you!

Kerry
Tuesday, July 1st, 2008 at 11:52:48

Thanks for the pictures of Winter Harbour, I lived there from 1958 to 1960. I retuned in 1998 love the place but it is a long way from Australia.

Philip Crooks
Sunday, September 28th, 2008 at 20:44:34

If it's any help, I did my trip through Due West Charters:

http://www.duewestcharter.bc.ca/

The trip from Winter Harbour to almost Brooks Peninsula. It took us about 3 days to get to Brooks, but the actual travel time was about 6 hours. (The Curve of Time isn't very fast, but that is kind of the point). Due West Charters kinds of picks a part of the west coast and then books trips in that area, but if you contact Jon, you might be able to convince him to do a trip there (especially if you can fill his boat).

There is a fishing company (or two) in town in Winter harbour. For example:
http://www.winterharbour.ca/services.htm

Will do "Adventure boat tours". I'd bet they can get you there. That said, I'm not sure what you will do when you get "there". Kayaking without support in that part of the world can be very hard (On a nice day the sea is rough and there aren't many nice days). There are no trails (that I know of) to walk and camp. I think there was an article in the Summer 2006 issue of Beautiful British Columbia magazine that might also be helpful if you are planning on doing something self propelled.

John

John, Thank you again for posting the photos of your trip in the Winter Harbour area. The photos of Browning Inlet, the marsh, the trail and Grant Bay (Open Bay to the "oldtimers") was like going on a W. H. community picnic in the 1940's The access to this wonderful beach was either by anchoring the salmon trollers off the beach and rowing ashore, in calmer weather or by Browning Inlet and the marsh. My family collected many glass balls. In your photo of the marsh are two old growth filled stumps. My father and grandfather told me these and many lother trees were felled by the First Nations people of the area pre European contact and iron tools. The trees were felled by placing hot coals in a circle to cut through the trunk. There is one of these culturally modified trees at the camping ground in W.H. Lots of history in this whole area. Thanks again, Evie

Evie Beaveridge (North)
Saturday, January 10th, 2009 at 15:02:51

These are great pictures. I Grew up in Winter Harbour and lived there from age 5 in 1956, through to the end of 1998. Our family commercial fished during summer months and logged for W.D. Moore Logging during the winter months. There was no better place on earth, I believe to grow up, it was one adventure after another. There was no roads access for many years and the only way in, or out was by boat or sea planes (beavers - cessnas) out of Port Hardy airport.

Harry Paulsen
Saturday, January 9th, 2010 at 20:53:18

Thanks for posting these pictures. I plan on visiting Winter Harbour this summer. I want to do some fishing and enjoy the serenity of the lovely area.

Chris Powell
Wednesday, January 19th, 2011 at 14:28:51

Hello : I lived on the light house shown from 1935 untill 1944. Very nice photo layout, brought back many memories. Wondering if there is a tour outfit that would run to Quatsino, Winter Harbour and Kains Island. Departing from possibly Coal Harbour, or Port Alice. Cheers.

Roy E. Carver
Thursday, February 24th, 2011 at 09:50:53

Winter Harbour looks like a great place for a new adventure. What was the accommodations like?
thanks again
Ed

Ed Lapins
Saturday, November 12th, 2011 at 08:06:49

We stayed on a ship that was moored at the dock - the

Curve of Time

. There is a B&B in Winter Harbour and I believe there is a fishing resort in town as well.


Last Modified Tuesday, June 9th, 2009 at 01:13:28 Edit
Copyright and Contact Information.