City of Refuge
Pu'uhonua o Honaunau
---

A few times in my photographic history, I've come to very photogenic locations and not wanted to take photos. The most spectacular example is San Francisco - I took two photographs the whole day. The City of Refuge was similar for me - cool site, difficult light.
The city of refuge is an ancient site - it was built around 1550. Because of the tropical environment, any wood structures have to be replaced periodically. Close to the entrance gate is the royal grounds.
After exploring the royal village we came out to see the royal canoe landing - a cove cut to land visiting parties.
A few places around the site have Ik'i - wood people. These would be totem poles in BC. In the A frame building above, a Hawaiian carver was working on a new pole to replace an aging pole near the temple.
The last site that amazed me was 'Ale'ale'a - a platform that huts were probably place on. This large foundation is square, and very well built - I have no idea how to fit stones that precisely.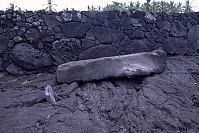 Mauna Kea Telescopes | Hawaii Volcanoes | City of Refuge| Resort | Snorkeling | Whale Watching
---
Tags: Hawaii(7), native art(4), art(3), temple(1), rock(1), lava(1)
From: John Harvey Photo > Trips out of the Country > The Big Island of Hawaii > Place of Refuge

Last Modified Tuesday, June 9th, 2009 at 00:40:57 Edit
Copyright and Contact Information.