Cape Scott

It doesn't get that green by being sunny all day...
---
The West Coast Trail is the prototypical Coastal hike in British Columbia. If you don't have the time, or the endurance, or just want some training, perhaps you should consider the Cape Scott Trail. The trail at the Northern most end of Vancouver Island and BC Parks has a sunk a ton of resources into it.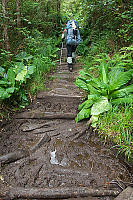 The trip is pretty simple. First drive to the Northern most end of the highway - roughly 4 hours North of Nanaimo. Turn onto the logging road to Holberg and drive for roughly another hour and half. Park. Hike 18km until you get to the camp site. Enjoy. This part of the Island is exposed to more rain than most of Vancouver Island so expect mud all year long. While BC parks has built an amazing number of boardwalks over the muddiest parts, expect muddy parts. Finally, the weather up here is very rough on wood so expect any wood structure to be slippery, even on a good day.


I can't say enough about how hard BC parks has worked on this trail. This bridges were in excellent condition and the trails were obviously well cleared of encroaching brush. On the day we walked in about 8 other campers hiked in and roughly 8 others hiked out.



Yes you are carrying a heavy backpack, but you really must stop from time to time to enjoy the local details. The hike alternates between healthy spruce/cedar forest and more boggy sections. The bogs actually go on for km and have some of the most extensive boardwalks. These low nitrogen environments have a number of interesting mosses (Red Sphagnum is a personal favorite) as well as specialized plants such as sundews.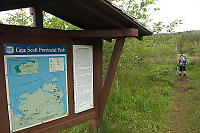 As you get closer to the end (past the 14 km marker) you will find the historical part of the trail. Cape Scott has had two waves of colonization and while there haven't been permanent dwellers here since the sixties, there is still lots of evidence from colonization.


The most dramatic artifact for me was fence posts. When we got to Hansen Lagoon we saw a huge meadow. Very quickly you see the old fence posts that once marked off fields receding into the distance.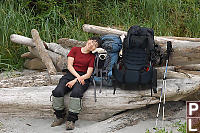 While the trail guide suggests this 18 km hike should take 6 hours, it took us 7 and half to go from the parking lot to the beach. At this point, both of us hurt. People we had seen earlier in the day could now be seen strolling along the beach. A few little camps dotted the highest part of the beach.


We tried to find a site with a good set of trade-offs - not too close to other people, but not too far from the food caches (or lockers). Not too close to the pit toilet, but not too far either. Turns out this is a hard compromise because the water supply is a good distance from everything so we compromised with a spot behind a nice sheltered wall of logs. We cooked ourselves an "hikers" dinner, and then surveyed our surroundings.


One of my favorite parts of the beach was the flock of Sandpipers. These birds spent most of the day feeding on newly exposed beach.


Hiking to Experiment Bight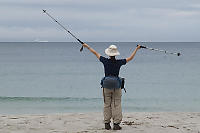 After a hard day of hiking, what is it you look forward to? Another day of hiking! On the plus side, on this day you don't have to carry your heavy bag and you are already in an exciting location so you don't have to push through "boring bits". From Nels bights, the natural target is the lighthouse at the tip of Vancouver Island - Cape Scott. The signage isn't consistent here - some seem to imply it's 4 km, others say it's about 6km. Turns out it's about 3km to get to Guise Bay and another 3km from there to the light house so I can hardly see how it could be 4km total.


Like most of the Cape Scott area, there are stories to go with Guise Bay. Farmers at the turn of the century tried to reclaim the narrow sand dunes between Guide Bay and Experiment for pasture land. They did this by driving logs into the sand as fence posts and then introducing ground cover (clover) to try and keep the sand down. They seems to make an existence at it until world war two when the government came in an appropriated the land from them. The whole area is park now, but those fence posts are still visible.
As we walked down onto the beach at Guise Bay, the rain came in. The wind was already hard so our pants were quickly soaked even though we had on rain jackets and hats. Looking at the sky, it was obvious this was the shape of the of the next few hours. My wife made a command decision - this would be as far as we would go today.



We briefly walked up into the sand dunes. It's an exotic world where the weather and the plants are at constant war to claim the sand. If the ocean rise enough that this area is over washed more frequently, it will be back to just sand.



Once we were back under trees the apparent weather improved. By the time we made it back to the North side of the Island, the weather had improved dramatically. That said, looking at the cape, you could see it was still enjoying a hard rain storm.

A Brief Lesson in Camp Cooking
We brought a stove and had lots of fuel - cooking on a camp fire was completely unnecessary. I'm not a big fan of camp fires - they are smelly, they consume wood and the smoke can ruin a good view.


My wife on the other hand quite enjoys camp fires. I figure if we are going to have a camp fire, the least I could do is use it for cooking. I decided to make pack Indian Curry with rice for the meal tonight. Usually the way camp food goes, you mix the contents of the packet into cold water, boil, turn off heat, stir, serve. Rice requires a 20 minute "simmer" and light backpacking stoves generally don't do "simmer" so most camp meals involving rice use "minute rice" - the rice equivalent of instant potatoes. I don't do instant potatoes and I don't do minute rice so we needed an alternative plan. Step 1 - build a fire. Let the fire develop some coals because "flame" is the wrong way to cook. Step 2, put your pot over the coals to boil the rice.



Modern camping cook sets have plastic lids and that plastic isn't the high tech silicon stuff that can take heat - these lids just melt. If you have flames licking your pot, the lid will melt and you may poison yourself. Second, modern pots have a nonstick coating in them. If you put them on the fire without food inside, that coating will burn and your food is again ruined. Finally, the pots are built to be light so they do a really poor job of transferring heat - you can easily burn one part of the pot and another part is undercooked. After my rice came to a boil, I put my sealed packets of curry in the pot and moved onto the next stage.


Simmer on a camp fire is hard. The fire proper will be too hot to simmer - your pot will just boil and boil until you burn your crunchy rice. My solution was to remove a larger log from the fire which was half burnt (coals had formed) and place the pot directly on the coals. Lots of monitoring. After 20 minutes, take off the lid and you have well cooked rice and packets of curry to serve. Mmm, hot and tasty real food.



Rice is nice and light to pack, but those curry packs are heavy (mostly water) to pack and result in garbage you have to pack out. Not ideal, but I thought it was an acceptable trade off for real food. After dinner we enjoyed the sun setting over the bay.


Walking Out

I love the sound of rain on a tent. I've always been fortunate enough to have a good tents and the rain was never a threat. That said, when it's still raining the next morning, you are probably up for a wet day.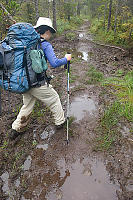 One of the nice things about the trail is the kilometer trail markers. GPS does a poor job reaching hand held units in these thick forests so having some sort of guidepost can be a real motivational tool when you make the trek. To make the hike back a little more interesting (we wanted to get back to Vancouver tonight which meant we needed to be off the trail at least 5.5 hours before the last ferry), we decided to photography the distance markers as we walked past. Having a stopwatch measure your time is a great motivational tool to not slow down.


It was quite apparent to us that not all kilometers are created equal. Some kilometers are through bog and are mostly boardwalk (which is much faster than rooty mud pit). One of the worst kilometers for us was between 3 and 2 - after falling for the second time of the day, I decided to stop for a power bar. Good choice.



And an hour and half faster than are "in" time, we were out! Without our backpacks, we found we could barely walk. My feet had take some damage (new hiking boots) so getting back into "civilian" shoes was hard. We reminded each other to never go hiking again. That will last a few weeks.


---
Tags: beach(6), panorama(4), camping(3), beach grass(3), grass(3), fire(2)
People: Helen(3)
From: John Harvey Photo > John Harvey Photo - Hiking > Cape Scott
From: John Harvey Photo > John Harvey Photo - Camping > Cape Scott


Thank you very much for posting this excellent article.


Sunday, June 20th, 2010 at 12:23:55

This is a vibrant and exciting webpage for revealing the true beauty and muddy reality of hiking to Nels Bight and towards Cape Scott. I love it! My husband, daughter and I are going soon and I'm trying to get all the info I can in preparation. Thank you for sharing!

Kim Smith
Sunday, July 25th, 2010 at 20:17:01

I hope you can answer my question. Were the people that cleared the farmland around Hanson's Lagoon Danish folk?? Thanks Edna Mill

Edna
Tuesday, January 25th, 2011 at 14:05:41

Enjoyed your webpage and it renewed my yearning to do this trail. My son daughter and I have done the west coast trail and have wanted to do this one as well. Nice job on your choice of pictures and great dialogue that goes with them. I loved the comment of "no more hiking" after you got off the trail, we have all been there and all have put our boots back on again.

Thanks
The Johnson's

Michael Johnson
Wednesday, June 8th, 2011 at 07:21:22

Nice website. I have been anxious to go to Cape Scott since some of our family history hails from there. My Great Grandfather Carl Brinke Christensen was a teacher and justice of the peace there during the first Danish colony. Looks like a nice rugged hike.

John Christensen
Saturday, September 3rd, 2011 at 19:27:30

I enjoyed all the pictures and the comments and your sharing of difficulties and enjoyment along the trail. Thanks...my brother, sister and I will be going on this trip soon and I am soooo nervous.

Donna-Kay Brown
Sunday, September 25th, 2011 at 13:38:29

Just did the trail to nels bight for the first time, found it a bit hard but the beach camping was worth it.We had sun the whole way and into the next day, very lucky! It was cool to know the rangers cabin is there should you need it. Decided we will do it again but next time camp 2 nights and give the legs a rest before hiking all the way pack to the parking lot. highly recommend this hike!


Sunday, June 3rd, 2012 at 12:44:50


Last Modified Saturday, January 21st, 2023 at 23:48:27 Edit
Copyright and Contact Information.