Kyoto Food

Dinner and the Market

---
Eating at a Ryokan

We arrived at
our hotel
after 7pm and the hotel staff was quite happy to see us - we had booked 4 nights for 4 people and arrived later than most guests. After the greeting, we were asked at what time we would like to receive our meals. While in Beppu, we found our meals were an additional cost and this room was already 10,000 yen a night/person so the prospect of an additional cost (probably 4,000 yen a day) wasn't thrilling. After much explaining, we finally understood - the 10,000 rate included meals (contrary to what our English reservations said) so we gladly accepted.

Ryokan dinners have a traditional form where every bite can be different. The meal often has a plate of appetizers - little bite sized savory snacks. All meals include pickles, some of which are unique to the area or even the establishment. Our soup included bit of matsatake mushroom.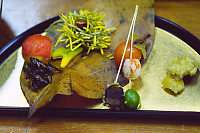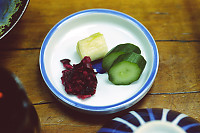 The meal tries to emphasize the difference - different textures, sweet, sour and salty. We got crab rolls wrapped in Tofu skin, tempura vegetables and fish custard.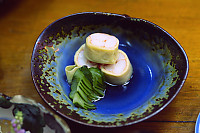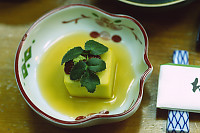 Most meals include fish. This meal had a piece of grilled sea bream and a selection of sashimi. This meal included a large pot of tofu that is boiled and then seasoned with soy sauce, sesame seeds and wasabi.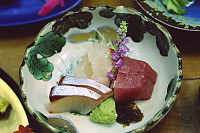 Desert was always fruit. This meal had grapes and persimmons for desert, but pear was also common.


Nishiki-koji Street Market
The next day we were shopping downtown when it started to rain - some of the only rain we saw the whole trip. Checking the guidebook for something to do close by (and hopefully out of the rain) we read about (and then found) the Nishiki-koji Street Market.


The market seems to cater to the Ryokans and restaurants of town. Fish is a very common sight, either cooked or raw.


Fish is available in a surprising number of forms. As a vegetarian, there are two types of fish I find hard to detect until it's too late - the first is fish flakes (bonito). They are often sprinkled on top of dishes but are quite sticky when they contact fluid. The second is tiny rice sized fish they mix in with (surprise) rice. You will notice them when you see little eyes in your rice.


Not all food in requires further preparation - there was an Oden stand (soup with fish and tofu in it) and stuffed tamago - egg cooked with fish or eel in it.

The fresh vegetable market was the only place that said no to me taking photos, so I don't have many pictures of green things. You can see vats of pickles for sale - most of the vegetables used I don't recognize. The second expensive buy was mushrooms - some of these mushrooms are over one hundred dollars US.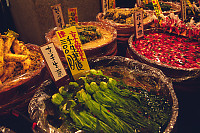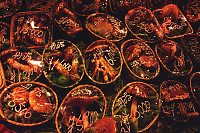 ---
Tags: Japan(19), market(10), food porn(10), seafood(9), mushroom(2), octopus(1)
From: John Harvey Photo > Trips out of the Country > A Second Trip to Japan > Kyoto Food


Thank you this really helped me with my year 7 project on the food of Kyoto.

Anthony Loschiavo
Sunday, May 20th, 2007 at 01:05:04

Really cool photos, thank you for sharing.

Colin

Sunday, December 30th, 2007 at 11:20:45

Which Ryokan did you stay in? I have not found any for that price not even without food!

Laura
Sunday, February 17th, 2008 at 08:59:36

cool facts. Thanks

jen
Sunday, March 23rd, 2008 at 17:14:13

Wow those things make me wanna go to japan

elin
Tuesday, March 25th, 2008 at 02:58:08

The Ryokan was called kogetsuso, but I did a brief search and I'm not sure it exists any more. Check out a site like: http://www.japaneseguesthouses.com/db/kyoto/index.htm - they list lots of Ryokan for 10,000 yen a night and less.

John Harvey
Tuesday, October 21st, 2008 at 22:59:22

Thanks for helping me with my school project.

Dudeman
Monday, February 9th, 2009 at 06:28:59

Thank you it helped me very much Love Atyum

Atyum Freton
Monday, April 6th, 2009 at 23:35:38

Yes thank you so so much!!!!

Ezzie
Sunday, May 31st, 2009 at 05:09:56

they design it so greatly. this helped. thanks


Tuesday, November 10th, 2009 at 18:43:08

Thanks for sharing (and taking pictures) of all the delicious delights!

Chris
Monday, December 14th, 2009 at 23:18:00


Last Modified Tuesday, June 9th, 2009 at 00:43:14 Edit
Copyright and Contact Information.