Kauai has amazing weather, we had a convertable and we knew we were going for a drive. We had already been south and explored the area around the hotel, so it was to the end of the road. Setting off from Kapa'a, we drove North. Driving past Kapa'a proper, the countryside opened up to massive sugar cane fields or small farms. The Anahola mountains come out the landscape, and pullover let us and anyone else with an instimatic try and capture their grandure.
Our first real destination was the
Kilauea Lighthouse
. After the lighthouse, we continued driving west high above the ocean. At Hanalei bay the road decends down to ocean level and where you can get beack access.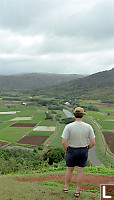 Near the end of the road is the Haena Beach park with it's dry cave where a higher sea level eroded a large shelter under the cliff face.
The connected park is also brilliant to see. With the northern exposure the winter conditions are spectacular if brutal.
After a brief walk around Ke'e beach, we drove back, but not before stopping Hanalei park for a shaved ice and burgers.
North Shore | Lighthouse| Flowers | Waterfalls| Underwater | Boogie Boarding | Canyon | Animals
---
Tags: Hawaii(6), beach(2), mountain(1), vista(1), cave(1), wave(1)
From: John Harvey Photo > Trips out of the Country > Kauai, Hawaii > NorthShore Kauai, Hawaii

Last Modified Tuesday, June 9th, 2009 at 00:34:09 Edit
Copyright and Contact Information.