March 2018
And some clever quip...
---
Sunset Walk at Stanley Park
The kids have Chinese class on Saturdays until 5:45 and at this time of year with daylight savings, we can stay out to sunset and still pickup the kids. Helen and I went to Stanley Park and took some photos of birds around lost lagoon.


Kids Painting Boats
Last summer, we happened into the wood boat festival at Granville Island. For some reason, the kids picked today as the day to pain their boats. We did some clean up (sanding to smooth down the surfaces) and then got out the kid friendly paint. The kids had a good time, but of course wanted to go to pond with their freshly painted boats.


Reptile Show at Richmond Nature Park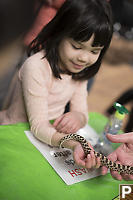 The Richmond Nature Park organizes a variety of "shows" throughout the year - a reptile show, a fossil show, an insect show and more. It was early spring and I happened to make a note of the event so we made it out to see the animals. The girls have had lots of touch events with snakes and other reptiles before so they weren't squirmy when it came to touching them.
---
Tags: animal touching(4), Richmond Nature Park(4), boat(3), model(3), art(2), painting(2)
People: Claira(2), Nara(1)
From: John Harvey Photo > Blogs for 2020 to 2005 > March 2018

Last Modified Saturday, June 9th, 2018 at 16:47:49 Edit
Copyright and Contact Information.