April 2015
And some clever quip...
---
Grandma's House for Easter
Easter is kind of a funny time of the year - this year was a light snow year so it's too late for any kind of winter activity but it's pretty early spring so many things are still shut down or just cold. This year we decided to go to Grandma's house! The kids know the program - riding bikes on the deck, coloring with someone else's paints, and just generally being spoiled by Grandma.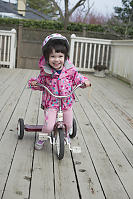 There is a playground just down the street from my parents house. Their neighborhood is funny - it was reasonable while we lived there but the cost of housing has risen and families have gotten older and now you mostly see kids with grandparents. Saanich does a good job of maintaining the playground and there is enough equipment to keep both kids happy.


We actually tried out a new park this week: Cadboro - Gyro Park. It has a zip line which Nara quite likes and some very solid concrete climbing structures that will be here in a thousand years. It's a drive to visit the playground (with a beach!) but I suspect next trip it will be the go to playground.

Cordova Bay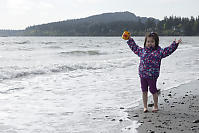 The irony is that the ocean is closer to our house in Vancouver than it is to my parents house in Victoria, but we seem to visit the beach in Victoria more often than we do in Vancouver. We brought rain boots for the kids but Nara insisted in going bare foot and Claira insisted on copying her sister. The grandparents have a great selection of beach toys so the kids had lots to do in the sand.

We got a "National Geographic" moment with the birds on the beach. I was walking along the beach and accidentally made a sea gull fly off and drop it's lunch - a Red Rock Crab. The crab seemed fine (no missing limbs) but it's behavior wasn't too smart - it appeared to be eating things in the sand rather than trying to get back into the ocean. I gave it a good fling into the water but a minute later the seagull managed to fish it out again. I think the beach is so flat that the crabs don't really stand a chance - the gulls take advantage of the low points between waves and just pluck the crabs from the bottom. It didn't take long for the seagull to flip over the crab, rip off it's legs and then eat the crab guts. It's a harsh world.


Uplands Park
Helen had two boutique toy stores in mind - I don't know Oak bay that well so I needed some map help navigating. On the way home I decided to drive through Uplands and was surprised to discover Uplands Park. The afternoon light was harsh so I decided to drive over the next morning and see it early morning light.


The nice part about this time of the year is that sunrise isn't at four in the morning - lots of great light at 6:30am. Even the parking lot had attractions. The Gary Oak trees are just starting to come into leaves so there is lots of light hitting the ground.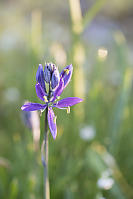 I'm not even a novice at the Gary Oak ecosystem, but I could tell this was a special place. Clearly there were invasive species all around but there were also native species (like shooting stars) that you just don't see in an urban park. There were trails through the meadows and they weren't 8 feet wide.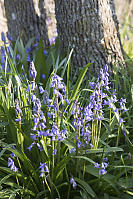 Thankfully the wind was light so taking macro photos was quite doable. It's been quite a while since I've taken these kinds of photos - it was nice to get back into it. I remember as a kid living in Victoria we never went into uplands because if you went off the main road you never found your way out. Funny how things change.

Swan Lake

There is a whole class of places I never went to when I lived in Victoria and I now go to frequently when I do visit Victoria. Swan Lake is one of those places - a small urban wildlife refuge in the city. I took Nara and my mom the first day but having a young child doesn't seem to match up with taking photos of birds unless you want photos of Mallards. The floating bridge is always fun with kids - the bridge moves in the wind and brushes the nearby trees so there are sounds and damage to explore.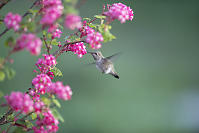 Not having much luck taking photos of birds, I decided to go one morning before the kids got up and spend some time actually waiting to see things. I considered going with the organized birding group on Sunday morning, but I'm still scared of the "more money than brains" tag because I don't know every species of bird but I do have a big lens. I decided to go Monday morning.


I found a hummingbird right out of the car and the combination of light bird and bright pink flowers is a no brainer. After that I chased some Marsh Wrens for a while - they are territorial so they can be funny to watch chasing each other around.


If you look at the "What to See" at Swan Lake - there are a number of ducks on the list (I mostly saw them in the center of the lake, far away from good photos) and some larger predators. I'm not gifted at find owls and hawks and my luck this day wasn't any better. I still had a great time though - happy with the photos and I got home just after the kids got up.

Easter Eggs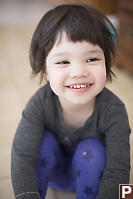 Traditions really are what you make. When I was a kid we decorated Easter eggs - maybe a few times. Maybe. My Mom had an Easter Egg dyeing kit and 6 hard boiled eggs. She heard that crayon survives the dye process so we started with getting the kids to color the eggs.



Coloring an egg isn't as easy as you would think - curved surface and all. Nara made a pretty good rendition of a flower and Helen put together some patterns. Claira is just starting to draw on her own (her version of drawing is pestering grown up into drawing what she wants on her materials) so the egg came out "distinct".



The dye comes as little pills with probably enough dye for a gross of eggs. I really wonder what the water at the sewage treatment plant looks like on Easter weekend. With a layer of dye on top of the crayons, we had Easter Eggs!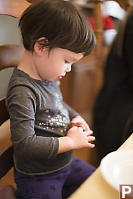 But really it's about the treats. Desert with every dinner - good desert, like ice cream or pie. Chocolate eggs at Easter. Treats.

Beacon Hill Farm is another "don't forget to do" part of any trip to Victoria. It opens at 10am which is early enough to do before lunch but not rush breakfast. The kids are getting more comfortable with the goats even though they still seriously outweigh Claira.


Nara's Birthday!
Previous years we have had a birthday party at our house but Nara wanted to invite day care friends and there was no way we could get that many people into our house. Helen found an available booking at the Kerisdale Community Centre and did a ton of planning and tada! We had a birthday party!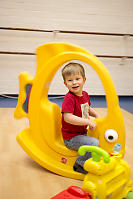 The community centre provided a party room for the meal and a gym toys and a bouncy castle for the kids to play. We started at 11am and had lunch around noon. The kids had pizza and cake in less than half an hour and were back to the gym to keep playing.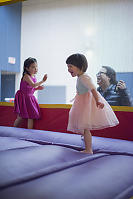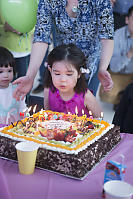 Nara's birthday Party was Saturday afternoon. That evening, Sean, Catherine and Liam happened to be in town so we went out for dinner. We happened to get all the kids on the stairs to take a photo. Kat's daughter was also there, but she was sleeping so sadly she didn't make it into the photo.


---
Tags: Cordova Bay(5), Swan Lake(4), McMinn Park(4), playground(4), beach(3), art(2)
People: Claira(14), Nara(11), Helen(2), Loren(1), Noelle(1), Abby(1)
From: John Harvey Photo > Blogs for 2021 to 2005 > April 2015

Last Modified Thursday, April 30th, 2015 at 22:41:48 Edit
Copyright and Contact Information.