April 2019

And some clever quip...
---
Victoria For Easter
We got to Asia most years, around spring break. Depending on the moon, Easter is sometimes part of our trip and sometimes it isn't. Easter isn't a big holiday in Asia, but in Canada the kids really like going to Grandma's house for the traditions and chocolate.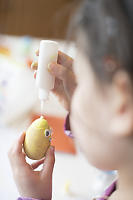 This year the kids figured out they can climb the tree in the back yard! On the the trees in the front yard fell down in a big wind storm in the spring and the parents are worried the trees in the back yard (which I planted) are going to fall down as well. They had the trees spiral cut so the wind can go through them, but this has the added benefit of making them much more climbable.


Two years ago
I took Nara on a whale watching trip
. Claira is now the same age as Nara and wanted her trip! We booked with the same company and arranged for Grandma to take care of Nara while Claira got her trip. A twist from last time - Helen decided to join us as well!
The big concern is wind - if it's too windy, everyone will feel ill and no one has a good time. Because April is early in the season, there are fewer tours and less chance of seeing a whale.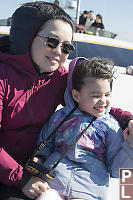 The boat left the harbour in Victoria and headed out toward sooke. We then crossed over the strait of Juan de Fuca to the American side. A few other boats were in the area already and we were surprised to see a grey whale surfacing roughly every three minutes. We were several hundred meters offshore of a river outlet so I assume the bottom was sandy and there was lots of food down there. The regular surfacing made the animal easy to spot and it did surface fairly close a few times.


We had spent quite a bit of time traveling to get here so we headed back to Victoria after this whale sighting. On the way back we stopped at Race Rocks to see what was out of the ocean.

The islands around the lighthouse are usually covered with marine Mammals - Harbour seals and Sea Lions. Apprently there were Elephant seals, but they were quite high on the island and difficult to spot. Finally, there is very active Pigeon Guillemot colony. The Guillemot's are almost dancing on the water while they feed.


Claira had a great time. Now that both kids have been once (when they were six), we have to figure out the rules for the next trip together.

Mount Douglas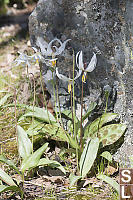 Mount Douglas isn't too far from my parents home. When we got home from the whale watching trip, Claira was tired by Nara wanted a bit of adventure. We drove up to the top of Mount Doug and explored some trails.


Easter Egg Hunt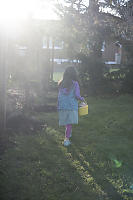 The real reason for the trip to Victoria happened on Sunday morning - the Easter Egg hunt! When you are traveling it's sometimes a bit tricky to get and setup an Easter Egg hunt. Grandma has all of the stuff - buckets, containers, treats - so the kids really enjoy the hunt at Grandma's house.


Grandma does a pretty challenging Easter egg Hunt. Sure, there are the usual - eggs under the tree, eggs in the stacking chairs. This year, there were eggs (in a plastic bag) on a tree limb and another plastic bag hidden on the fence. The kids have to work for it!


Uplands Park
Four years ago I had a nice
morning walk in Uplands park
. I went at sunrise when the light is gentle and without kids so I could work slowly with a tripod. The park has meadows that are full of wild flowers - in the spring it is kind of magical. This morning I took the kids to see if they would also enjoy it.

Claira fell down and hurt her knee.


Nara's Birthday Party
Nara is turning 9 this year and she picked the family favorite Granville Island Adventure Zone for her party. We have been here so many times that the staff know us by name. The kids are old enough that I no longer go into the maze - it's time to just chat with the few parents that stick around after their kids go in.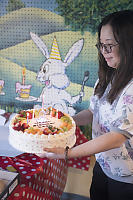 We usually get the maze + arcade package. The kids get a bunch of tokens to try in the machines. The machines vend tickets and the kids can redeem the tickets for prizes. There is no great reward, but the kids take the process quite seriously. They really want to understand the expected yield on each machine before they commit to putting in tokens. The are clearly disappointed if they get less than the expected yield. This is still hard with Claira.


Terra Nova Adventure Playground
Nara's birthday was Sunday morning and it was a beautiful day so we decided to go to Terra Nova Adventure Play Environment for the afternoon. While it was busy, there is enough equipment that the kids generally don't have to wait to play.


One of Nara's favorite places to play is a large chestnut tree. Usually there is a picnic table close by and she can use the picnic tables to get into the lowest branches of the tree. From there she has many limbs to climb, most of which are at least 3 meters off the ground. It's hard to watch as a parent, but she certainly enjoys it. This area was settled in 1868 so potentially this tree could be 150 years old. Apparently these trees can grow to be 300 years old so this tree likely has lots of life left in it.
---
Tags: Terra Nova Adventure Play Environment(6), tree(5), marine mammal(4), decorating(3), climbing(3), Mount Douglas(3)
People: Nara(12), Claira(6), Helen(1), Abby(1), Haley(1), Lloyd(1)
From: John Harvey Photo > Blogs for 2022 to 2005 > April 2019

Last Modified Sunday, January 22nd, 2023 at 00:04:28 Edit
Copyright and Contact Information.