April 2021
Show" align="middle" src="../../BlankSlides.gif" hspace="10" style="border:

Really enjoy those rare sunny days!

---
Happy Easter!
Yeah, Covid! We normally go to my parents for Easter, but not this year. The kids did get a chance to decorate cupcakes and make some Easter Eggs. This is the first year the kids got to colour blown eggs - previous years have been hard boiled eggs.



The kids did a good job with the eggs. The kit came with a clear crayon so they could do masking - it worked pretty well.



Not as much fun as a trip to Victoria, but a whole lot safer!

Colony Farm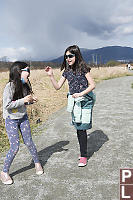 When you get good weather, you feel the urge to get outside and make the most of your day. When we left the house the parking lot at Colony farm had a "Very Busy" warning in Google maps, but a cloud burst had rolled through and drenched the place, probably sending many people to their cars. No problem parking and we got sunny skies!



I have visited Colony Farm once before and I think this is the first time for the kids. Most of the walks are near water so you want to keep an eye open for wildlife in river and the drainage channels.


A surprise for me - we spotted a muskrat swimming and then coming out of the water! I have seen a muskrat once before when hiking at Manning Park, at the time I didn't have my camera out and the muskrat was gone in a flash. We were further from the muskrat, but I did have my camera handy. I was quite surprised to see the animal out of the water.

We walked to the pond hoping to see an American Bittern, but no luck. I might have seen a Virginia Rail, but it was just a flash and I have no photos so no credit for that one. As we started walking back we saw a crowd coming towards us. Turns out a river otter was swimming along next to the road and didn't care that half a dozen people were watching him. We hung out and watched it get out of the water.


They are fun animals to watch. He did catch something to eat but if was too small for us to tell what it was. We made it back to the bridge and then walked to the parking lot.

Meters from the parking lot, I looked though the blackberries into a ditch full of water and spotted what I first thought was a Chinese Pond Heron (which I have seen a lot in Asia) but I quickly realizes was the American Bittern people were out to see. The bird has giant green feet and was walking among the weeds trying to find a meal. He came up with a small fish.



We had a great afternoon. I don't think the kids would have wanted to know that I would have been happy just seeing the Bittern near the parking lot.


City Timelapse
| | |
| --- | --- |
| | There are at least four different phases of Cherry Blossoms in Vancouver. The earliest are the trees near the Burrard Street Station - they are warm and loose their pedals early. Next up are the trees over the fisherman wharf - again, quick to lose petal. Next are the trees at QE Park - they bloom later and finish later. Finally are the thick flower trees on 6th Ave - they bloom the l latest and hold their flower even when they start to leaf in. The early trees are easy to miss because they don't last long. We happened to walk by and I saw the Fishermans Wharf trees were in great shape and I wanted to include them in a timelapse. |

My first thought was to include a branch, but that didn't work as well as I had hoped - the branch moves through most of the video and the light on it isn't nearly as bright as the city. When I was leaving (in the dark), I noticed the scene was quite a bit different from another angle so I decided to come back and try again another night.



Still not quite what I wanted, but the flowers are now gone so maybe I can try again next year.


Queen Elizabeth Park
Queen Elizabeth Park is a fickle friend. It's the highest point in the city of Vancouver so it's a pretty good place to find birds during the migration periods. That said, it can be quite busy so walking around with a tripod and a big lens can make you look like an idiot. April is the mid to later part of the spring migration so a morning in the park is definitely worth it.



While most of the park is a garden, there are a few special spots.


One of my favorites is corner near the arbutus tree where you can find Pink Fawn Lilies in the spring. The come up every year and I doubt there is a city worker planting them.



It was such a nice day (we had a run of unseasonably warm days) that we decided to have a picnic in the park. We were far from alone in this idea, but QE is large enough that we didn't feel crowded.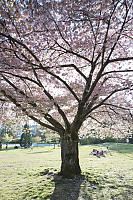 In my walk in the morning, I notice a small crowd of photographers photographing a Hummingbird on it's nest. A few years ago there was a hummingbird nest really close to a walking trail and the nest failed because of the attention. Seeing the crowds, I was really worried how this nest would survive, but the mother was feeding it's babies and the babies were active.


Nara and Claira wanted to see what everyone was looking at so I setup my camera and Claira took a photo. Even if hummingbirds are close they are quite difficult to spot so I understand how they can raise babies in an urban park. I have seen
hummingbirds on nests before at QE Park
and before at
Outerbridge Park
, but this was the first time I've seen the babies so large. I came back a few nights later the nest was empty - presumably the babies had flown.

It's been a while since Helen mixed up bubble formula so the kids were quite happy to see the tubs and sticks come out. After dinner and a brief walk around the kids started making bubbles in the dying sunlight. It's hard to know what is more fun - making the bubbles or breaking them.



We were home a little late for baths (it was a school night), but I think it was worth it.


Happy Birthday Nara!
Nara's birthdays have been challenging with COVID. Last year restrictions peaked around late April. This year, the restrictions got worse and worse as her birthday approached so we decided to do another zoom birthday. Each kid gets a box of supplies delivered via the Mom network and they all do the same things at same time and chat on the zoom.



Every kid got a cupcake but Nara got a sparkler. Later that night we had a family birthday with a full sized cake.


---
Tags: Colony Farm(10), Queen Elizabeth Park(5), bird(4), cherry blossoms(4), bubble(3), eggs(2)
People: Nara(11), Claira(9), Helen(1)
From: John Harvey Photo > Blogs for 2022 to 2005 > April 2021

Last Modified Sunday, January 22nd, 2023 at 00:09:10 Edit
Copyright and Contact Information.