November 2005
The days get shorter as do the walks

---
Stanley Park

It was one of those Sundays (not raining) when you really want to just get out and do something. Eric,Gabi and Mark were available so we went over to Eric's house and from there went for a walk in Stanley Park. It isn't particularly warm out so it wasn't going to be a long walk.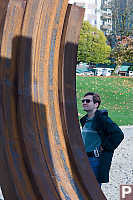 Vancouver has been getting more and more public art - art installations have been popping up all over.

The walk is of course beautiful. Those higher latitude afternoons have raking light even fairly early in the day.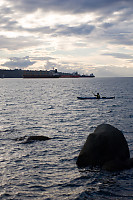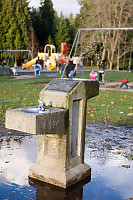 Lynn Canyon


Perhaps not as nice a Sunday, but still a "I have to get out" kind of day. We decided to take the short walk around Lynn Canyon. Lynn canyon stands in contrast to Capilano canyon - a large tourist destination on the North shore. The suspension bridge isn't as high or as long but it is free and scary.
Once on the other side you go for a hike in a logged forest with old growth stumps.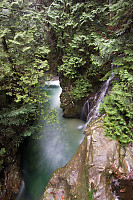 If you turn South (right) You walk down to the twin falls bridge and then return the parking lot in a half hour long loop.


If you turn north (left) you come up to a great summer swimming hole - a pool below a set of canyons.


Returning to the parking lot, we were loosing the sun to sunset and fog. We returns to civilization and a great Mexican dinner.
---
Tags: Stanley Park(4), long exposure(3), hiking(3), river(2), mushroom(2), stump(2)
People: Eric(5), Mark(4), Gabi(3)
From: John Harvey Photo > Blogs for 2020 to 2005 > November 2005

Last Modified Tuesday, June 9th, 2009 at 01:07:03 Edit
Copyright and Contact Information.