December 2015
Days are short and there is lots of night.

---
Bright Nights at Stanley Park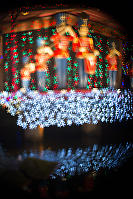 Bright Nights at Stanley Park is a great way to get your Christmas lights tour checked off the seasonal list and feel good about doing it - proceeds go to burn units in the lower mainland. I took some pictures a few years ago using a paper mask over the lens to make Shaped Bokeh. Last time it was stars, this time I tried a snowflake design.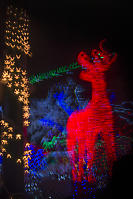 Each year they add a new attraction or two to the show. This year there is a huge reindeer lit by red lights. It's so big it's visible from most parts of the walk so it's hard to not include it in some way.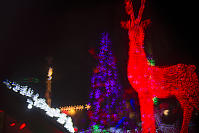 A week later, we made an after dinner trip to see the light show. It was way more crowded - parking was a zoo. I tried to do the snowflake paper mask trick again but it does make focusing and exposure times really slow. Being a school night we couldn't stay very long, but since it rained all weekend we didn't have much choice.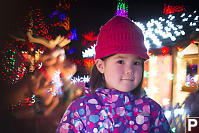 Siwash Rock with Star Trails

On Friday night I saw the "Sunshine" icon in the weather app on my phone. It's been so long since I've seen it, at first I thought it was a mistake. Sure enough - we did get an afternoon of nearly cloudless skies and weak warm sun. Being Friday night, I decided to go out to Stanley Park and try my hand at star trails photography.


The theory was set the camera up on the tripod, set the exposure for 30 seconds and leave the shutter button down until I was too cold to keep standing around. There were a few surprises. On a Nikon Camera if you lock the shutter release, you get 100 exposures - roughly 50 minutes - and then the camera stops firing. The second surprise was the clouds - even though the afternoon was mostly cloud free, the clouds started rolling in later in the evening. The clouds are lit up by the city and they are brighter than most of the stars. If you do the image stacking tricking with light clouds, the clouds dominate the image and you get a bland white image with very few star trails. I would up masking 50+ frames and dropping another dozen so the final image had some star trails and some clouds. I spent more time in photoshop than I did on the sea wall, but at least my computer desk is warm.


Iona Beach Regional Park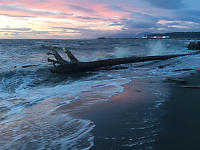 Claira has a nap in the afternoon so sometimes Nara and I go out on short trips to try something new. I've heard good things about Iona Beach Regional Park so I thought I would take my long lens and see if there were any birds to be seen. It turned out to be blowing quite hard so any birds we did see were either fly past at ridiculous speed or they were hiding in trees trying to stay out of the wind. That said, the timing worked out well for sunset and Nara had an iPad with her so we took some sunset photos. Nara really like this one.


When we got home we decided to do some watercolor painting. I found a block of nice watercolour paper and the girls painted images inspired by the image on the iPad.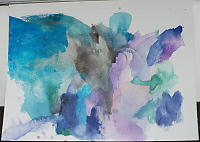 Porteau Cove for Star Trails
We have had a lot of cloudy nights in the last month. Surprisingly, we got a night that wasn't cloudy and it wasn't a school night. I checked the Northern Lights prediction websites and apparently this night might be a good night to go! I packed my tripod, long exposure cable and drove off to Porteau Cove - half way between West Vancouver and Squamish. This little bit of land sticks out into Howe sound and there aren't a lot of lights to flood your photos. It's about a 45 minute drive. I found a nice platform on the old ferry terminal and started taking photos.


So I was standing around in the cold listening to my camera take photos (one every 30 seconds) and I was looking for the Northern lights. Nothing. Your brain does funny things when you look at the sky for a long time - it normalizes the brightness and when you move your head you will momentarily see an increase in brightness in the dark region - kind of like the brightening you see when the Northern Lights first lights up. Lots of tough looking - still nothing.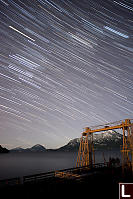 I had to make a decision - continue photographing North or pick another viewpoint. I decided to turn the camera and shoot south to pick up some interesting foreground and see what it looks like when you face away from the visible pole. I'm actually quite happy with the results. Further plus - cloudless night so the post processing was really simple - just stack and add! It was a cold night, but I learned quite a bit (like the importance of dressing in layers).
Reifel Bird Sanctuary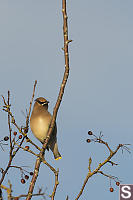 Claira has an afternoon nap and there were no other activities planned so I decided to take Nara for a trip out to the Reifel Bird Sanctuary for a walk. I brought the big lens (400mm) and a small point and shoot (water resistant and drop resistant) so Nara would have something to fill her time too (beyond feeding bird seed to anything that moves). Nara got quite into taking photos - she wanted to know which ducks which were which and then tried to get a picture of both boy and girl birds from a number of species. Her use of the "go" button is still a little rough (doesn't always fire and often induces shake), but she is getting the hang of it.


It was late in the day (lovely light) so there were plenty of opportunities for nice photos. About half the ponds were frozen over which concentrated the massive number of mallards on the smaller bodies of open water.


I keep reminding myself - a good short day is better than a long bad day - we headed home when Nara got cold. I hope to be back for duckling season!

Vancouver Aquarium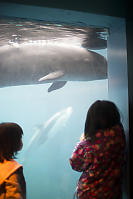 The Vancouver Aquarium is one of our go to places for rainy weekends - a few hours of activity before lunch and the kids have got some exercise and seen something interesting. We are starting to get traditions - when we arrive they pick where we go (Chester and Helen are favorites) and then we cycles between the outdoor shows and the warm areas.



Surprise to me - this time Nara asked to see the bats. My camera is more of a landscape than low light camera and I didn't have a tripod but I was kind of impressed what it can do with low light. The kids have lots of questions but I think seeing the bats eat the same fruit that they do help make bats a bit more approachable.

Lunch time comes and the crowds are thick - we head home for a homemade lunch and an afternoon nap. Good Day!


---
Tags: night(12), Stanley Park(10), Bright Nights(8), lights(8), astrophotography(6), stars(4)
People: Nara(3), Claira(2)
From: John Harvey Photo > Blogs for 2020 to 2005 > December 2015

Last Modified Monday, January 18th, 2016 at 21:46:37 Edit
Copyright and Contact Information.