McNeill And Area

We had two days

---
Sointula
I was really hoping there would be some clever way we could see both Alert Bay and Sointula in the same day. With all the ferry trips, you would spend most of your day on the ferries and have little time to see the destinations. We decided to focus - pick an island. Sointula (Malcolm Island) got the nod.



Some web page I saw mentioned there is good tide pooling on Malcolm Island, but the tide table said the best time was just after we arrived - there wasn't much time to scout for a good beach. We traveled east on the island where there was nice low bank beach access, but didn't find nice pools. The North side of the island is pretty steep, but I suspect if you can find a place to get to the water (safely), there is some tide pools to be seen there.


Lunch time had snuck up on us. There aren't a lot of options for restaurants in Sointula, but there is a small burger stand in the Marina. We ordered burgers and fries and soaked in the view.


Pulteney Point Light House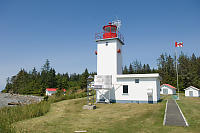 Pulteney Point is at the far west of Malcolm Island, on the Southern side of the tip. You can't actually drive to the light house - you park and take a short walk down to the beach and then walk along the beach until you get to the lighthouse. Apparently the light house keeps like to see guests, but we didn't see any light house keepers while we walked around. There is a nice view over the channel toward Port McNeill.


Bere Point Regional Park / Beautiful Bay Trail
I have a bit of a soft spot for island hiking trails. Being on an island, they generally aren't that long so you get the full experience in a reasonable amount of time. As a kid living in the interior of BC, I was marked by the experience doing the west coast trail. Every time I get back into that kind of biome (salal higher than you can see, wind stunted trees) a bit of me feels like it just arrived home.
The viewpoints were quite nice - I believe we spotted a whale in the bay. There were eagles circling overhead - it's nice to get such a wildlife experience on a small island.

Boat Houses

Sointulla is a fishing community and fishing is still a significant part of the local economy. We found a fisherman selling canned and smoked salmon that we could take back to the city to share as gifts and I started to notice the boat houses around the island. The boat houses are all pretty similar - a bridge between the road the water, usually with a ramp down the middle and dubious foundations.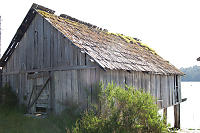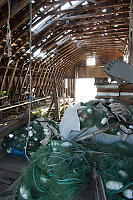 A lot of the boat houses are in a serious state of disrepair - holes in the roof or worse. My favorite was a boat house that was just the front and back frame with a tiny bit of siding still hanging uselessly in the air. I suspect the environment is hard on wood and if the house isn't being used for work, it quickly falls derelict.


We were in for a surprise on the ferry trip back - we were the only vehicle on the ship! There were walk on passengers, but how often can you say you have been on a BC ferry and been the only car on board?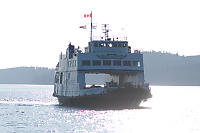 Whale Watching
The next morning we had reservations for a whale watching trip with Mackay Whale Watching. I've done a trip with them before and they do seem to do the taster plate - a little bit of everything tour. Our morning started off quite foggy.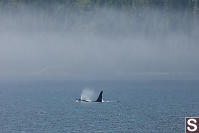 Robson Bight is quite close to Port McNeill and is a reliable place to see marine mammals. We first spotted a lone male and then a few singles and then a larger pod of females with young. A lot of whale watching is managing your expectations - the boat isn't going to get super close and the whales see these tour boats every day - it's rare for the whales to really show an interest. Best you can hope for is some nice surface behavior, but if the whales want to spend the day fishing, that's what you get.


It's not just whales you see on these trips - sometimes you see seals, sea lions or birds that aren't common on shore. Either I was lazy or seasick or we just didn't see much other than the whales.


After the tour, we drove over to Telegraph Cove. It's a neat little community, but the commercial aspect has overwhelmed the historic nature of the place. I was quite impressed with the Whale Museum - the skeletons are impressive and the staff really knew there stuff.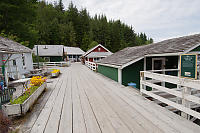 The next day were going on our hiking trip up to
Cape Scott
so we were starting to get worried about the physical exertion ahead of us. We went back to the B&B and had a quiet night in. The next morning we were up reasonably early and driving North.
---
Tags: art(3), whale(3), mobile(2), lighthouse(2), ferry(2), ship(2)
People: Helen(1)
From: John Harvey Photo > John's Overnight Page > Port McNeill And Area

Last Modified Sunday, January 29th, 2023 at 12:13:52 Edit
Copyright and Contact Information.