Sunshine Coast 2

A great place to spend a long weekend.

---
Two years ago (2018), I picked the
sunshine coast for an adventure weekend
- me and the kids traveling locally while Helen was working the weekend. Traveling three turned out to be an advantage - a lot of the beach front accommodation is cabins that are small - generally a double bed and maybe a cot. Trying to fit 4 people is hard which I found when I tried to book a weekend the following year. One of the few places that did have two double beds was available for 2 years later (2020) so I booked it! Fast forward 2 years, add in a pandemic and we are vacationing locally on the Sunshine Coast!
I have been to the sunshine coast on other trips. In 2019 I went to the
Sunshine Coast Art Crawl
. Pressing the "Way Back" button, back in 2002 I went
camping at Porpoise Bay
.
Because of Covid, Ferries were a bit of mess. Priority was given to locals which meant my reservations made 6 months in advance were canceled. We took the 9pm ferry on Friday night over to Langdale and drove up in the dark.
The next morning the kids woke up to find themselves living on the beach. My kids really like the beach so they were happy to just go down to the rocks and look at things.


The sunshine coast is known for their Arbutus trees and just down the beach from our place was a tree hanging over the beach with a swing big enough for two. Arbutus don't grow straight and tall so I'm sure this swing has a lot of "suspension" for heavier people but the kids had not problem swinging from it.


The beach itself was mostly loose stone with larger rocks sometimes piling up. When the tide was out there were tons of places for small crabs to hide. There was clearly a lot of life on the beach because birds kept coming by looking for lunch (and probably some quite).



Farmers Market at Sechelt
The last trip we made, we spent some time at the farmers market before driving up Island. Pender Harbour days was canceled this year, but the Farmers Markets were still running with restrictions. The market has some farm goods, a lot of prepared food like bread and meals to go and finally a lot of artists. The artists are quite interesting because they have to pick and choose what they show - large audience, but short attention spans and smaller budgets.

I'm always impressed with how food, raw or prepared, is presented at a farmers market. A lot of vegetables have bright colors, but the containers (rustic? efficient for cleaning) and price tags (chalk? whiteboard? paper) vary wildly. Some farmers spend a lot of time trimming and presenting where others are looking for a "fresh from field" look.
Swim at Davis Bay
Our last trip we stay in Davis Bay within walking distance of the pier. On the last trip I was single parenting so I didn't feel comfortable taking two kids swimming at the same time. This trip, the kids wanted to go back to the pier and do some swimming. They have taken years of swimming lessons and they really, really wanted jump off the pier into the ocean. Mom was reluctant, but as long as I was in the ocean to rescue them, she was okay. The kids had a great time!

The ocean is "rich" - full of floating life. You don't have to go down very far before the light filters out. The other half of the pier is dedicate to fishing and you see what comes out of the ocean - dogfish, crabs, flounder.


Day Around Gibsons
On our trip two years ago we didn't know there was an aquarium in Gibsons - the Nicholas Sonntag Marine Education Centre. It's not big, but it does feature locally caught wildlife and the wildlife is released at the end of the season. That said, their stay at the aquarium is probably the best years of their lives - no predators and lots of food. With Covid there were restrictions (a few families at a time and you had to move from "cell to cell" from the start to the end. That said, we were the only family there so we had the run of the place.

Unlike the Vancouver Aquarium, the aquarium cells are small but the distortion from the thick acrylic is also smaller.


My favorite part of the aquarium was actually outside of the aquarium proper. They have a multi-story tube with aneomes and fish. The sunlight filters through a skylight really highlighting how beautiful some of these creatures are.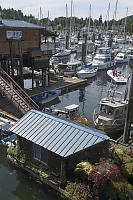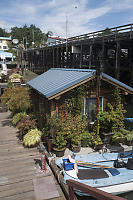 Helen wanted to do some shopping so we dropped by the fish market at the pier to see prices and what was fresh. It was getting to be lunch so we grabbed lunch in a "trendy" restaurant on the water. Full Covid protections here - spaced out line up, names and phone numbers recorded in case of outbreak and only half of the tables were operating. The servers tried to do drop off only - you get a pitcher for water for instance. The kids had their iPads which made them happy.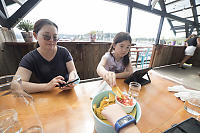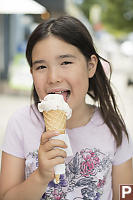 We have a favorite ice-cream place in Gibsons (probably the only place that sells it in the gallery area) so the kids "saved room". It was certainly warm enough that you don't feel cold eating ice-cream. We did a bit more shopping in town and then drove back home. Helen brought family favorites for dinner so we had dinner at the AirB&B and enjoyed the evening.



Some rentals seem to be focusing on loss prevention (all the kitchenware are mismatches from Ikea) while other seem to highlight an experience or local treat. Our hosts kindly provided breakfast treats (fresh baked bread, yogurt, home made granola) andf a smores kit. There is a rustic fire ring down at the beach and you don't have to say "smores" more than once before our kids are moving. We collected driftwood and Claira lit the fire. After we had some coals the roasting got started.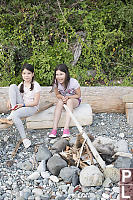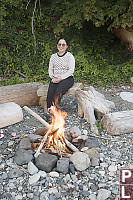 The kids are pretty good about browning the marshmallow (not making a flaming torch) and when it's runny enough they put it between graham crackers with chocolate to melt. The question is often how many they are allowed to eat a night.



Of course sugar makes for excellent portraits.


The next morning we had a surprise on the beach! A Sturgeon had washed up on the beach and a Bald Eagle was picking away at it's face. The fish was dead, but it must have been recent because it didn't smell bad at all. I spotted a Turkey Vulture perched in a tree waiting for the Bald Eagle to fly off, but as soon as we got on the beach, the big birds were gone.
I have never seen a sturgeon in the wild and I always assumed it was a river fish. Turns out I was wrong - according to the internet they do sometimes travel in ocean going from one river to the next. I don't know what ate this one (maybe a sea lion?) but the fish was just recently dead when we found it.


Claira thought it was really funny that the fish was actually larger than her. These fish grow to be monster size - several meters long so this one wasn't an ancient example.

The hard plates on various parts of the fish are unlike anything you will find on a Salmon or trout. This fish could do some serious damage just swimming by. That said, as I understand from the mouth parts, they are mostly bottom feeders looking for clams and other shellfish.


Smugglers Cove Hike
Our hosts suggested if you are going to do one hike on the sunshine coast, this is the hike to do! There was a generous parking lot and even though it was a holiday morning we were able to find parking.

I must admit, I really like bridges over fresh water ponds. There is a whole new world of aquatic plants and animals that bridge access lets you see.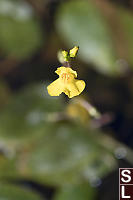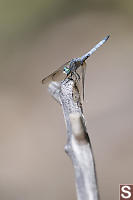 I also have a soft spot for Dragonflies. My kids know that if they can spot a perched dragonfly that means they get to take a break from walking and maybe take a longer water break while I get out my camera and switch lenses.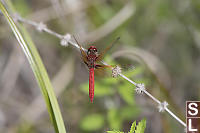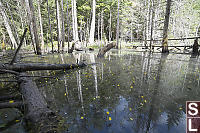 This hike takes you down to smugglers cove which could also be called "really good anchorage for small boats". I'm sure there is some interesting history here but there is no direct road access (unlike Pender Harbour) so it would be difficult to move a lot of material from a boat to shore to market.


When you get close to the ocean the trees change. Arbutus fill in much of the of space and moss covers the ground.

A short hike further and you can get to the open ocean. There are plenty of Ocean glimpses but not a lot of really great ocean views.

The kids were getting hot and tired and wanted to go back to the car to bigger snacks. We had a great weekend!

---
Tags: Sunshine Coast(12), beach(5), marshmallow(3), aquarium(2), sunset(2), icon triple(2)
People: Claira(11), Nara(8), Helen(1)
From: John Harvey Photo > John's Overnight Page > Sunshine Coast 2
From: John Harvey Photo > Blogs for 2022 to 2005 > Sunshine Coast 2

Last Modified Saturday, January 28th, 2023 at 23:09:22 Edit
Copyright and Contact Information.