Beach Clean Up

Beautiful Day

---
We woke up in Island Bay and we wanted to end the day at the very southern end of Gwaii Haanas which included a big trip around Burnaby Island. We woke up with Rissos Dolphins that we went to bed with the night before.



As we headed out to the ocean, we two saw Dall's Porpoise heading out into Hecate Straight. Dall's Porpoises are fast - they often bow ride large ships going 20+ knots. While the Island Solitude is a nice ride, it's not fast enough to keep up with Dall's and they were soon gone.




We continued sailing out to Hecate Straight and then South. We spotted common birds (Pigeon Guillemot), less common birds (the only time I saw Ancient Murrelet on the trip) and birds new to me (Northern Fulmar). We spotted two humpback whales traveling together, but they were faster than us and soon disappeared.


Garcin Rocks
Sea Lion haul outs are well known in BC - sea lions are often nocturnal and haul out in the same place year after year which makes it easier to monitor their populations. It also makes it easy to see them if you happen to be driving by.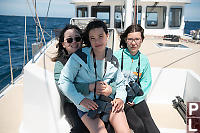 Bowles Point
We are near to the southern end of the Haida Gwaii and only small islands block our view of the open ocean - next stop, Japan. Open Ocean beaches are known to collect garbage from all of the world, but much of it from Asia. We were dropped off on the sheltered side of Bowles Point to go do a bit of a beach clean up.


Bowles point has a thin neck so we walked across on a rarely used trail. We can thank the deer for making this trail passable and pretty quickly we popped out on the open ocean side of the point.


The beach was a wide sandy crescent and any protected space from behind driftwood all the way up the edge of the forest was thick with plastic bottles, fishing floats and lots of other detritus. Elan brought a bunch of garbage bags and we set off in our own directions to pick up and fill the bags. It's a bit tricky - do you bring the garbage to the bag, or the bag to the garbage - it depends on how much you find.



The biggest find was a bumper that would be used on a large boat. We found an orange float that still had a readable label from it's manufacture.




People spread out and collected small garbage from one end of the beach to the other. One end of the beach had tide pools that were nice to look in.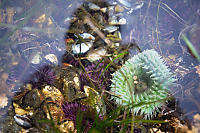 Once we had the majority of stuff ready to go, we headed back to the calm bay and went back to the sailboat. A few volunteers took the zodiak around and they loaded it up with all of our garbage. The solitude has two zodiacs so one was now full and one was still usable for going to shore.





We anchored for the night near the Gordon Islands. There was a humpback or two in this bay that was using "tail flicking" as a way of feeding. It was near the end of the day so there was very little light to work with but we did watch the whale until it was dark.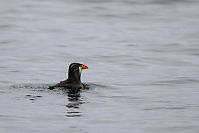 Being the open ocean, there was lots of seabirds surfacing and swimming by. What an amazing evening.
---
Tags: marine mammal(6), dolphin(3), beach(2), whale(2), triptych(1), derelict(1)
People: Nara(3), Claira(2), Helen(1)
From: John Harvey Photo > John's Overnight Page > Haida Gwaii > Beach Clean Up

Last Modified Monday, October 2nd, 2023 at 20:43:33 Edit
Copyright and Contact Information.