A Day in Nikko

Temples, Temples, Temples...

---
I visited Nikko on my last trip to Japan and we tried to cover the whole town in half a day. I wasn't happy with how well we saw the sights last time, so this trip I wanted to do better. Doing better started with setting the alarm for 5am.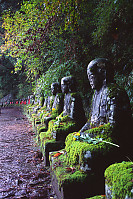 I was quite happy with the Turtle in last time we stayed there so we booked in there again. Our trip from Matsumoto was much better than our trip to Matsumoto, but we didn't arrive in Nikko until about 3pm on Saturday, so we walked around Narabijizo that are close to the Inn and generally got over our travel weariness.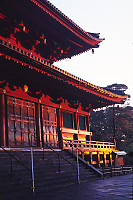 I remember the large crowds from my last visit and this being Sunday, I figured today would be another big crowd day. I set the alarm for 5am (Andrea wasn't too happy about that) and was walking down the road to the temples to Nikko at 5:30am. The sun wasn't yet up, but orange light bathed everything. So many photo opportunities.

The temples were empty (and the interiors closed), and I only saw a few people walking around - a security guard, and two monks, and all of them smiled when they saw me.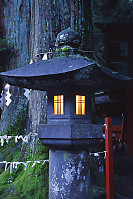 After my morning walk, I stopped by the local convenience and picked up breakfast. Andrea, Mark and David were just getting up so we had breakfast a prepared for a day of templing.
Omoté-Mon
These two figures are the guardians for Omoté-Mon, one of the gates to Toshogu Shrine.

Yomei-mon
Yomei-mon is the gate to the Toshogu shrine, arguably the fanciest complex at Nikko. The gate was apparently built by 130,000 workers on an unlimited budget.


Yasha-mon Gate
Yasha-mon gate is part of the Daiyuin-Byo, built in 1652 as the mausoleum to Tokugawa Iemitsu.


We had seen about as much as we could and were definitely getting hungry. There are a few stalls selling food in the main walk area, but none of it was quite what we were looking for. Last we visited, we had lunch at Hippari Dako, a yakitori and noodle shop that is very popular with foreigners. The place was good so we decided to go back, and we were definitely satisfied. The restaurant has an all English menu, several vegetarian choices (yeah!) and really good curry noodles (yeah again!)
Taki-no-o Shrine

Having seen much of the temple complex and had lunch, we were up for something different. Our first thought was to catch the bus up to Kegon falls to see the fall foliage, but we asked at the tourist center and the wait would be roughly 3 hours. Not so much fun. We looked at the map for Nikko and a small falls was marked behind the temple complex - a bit of a walk. Sure!

We were in for a bit of a shock. Japan seems to have a war going on against nature. As we walked up the road (we didn't see an unpaved path on our whole trip) we noticed a number of projects going on - the river (which has a concrete bottom) was being rerouted to reduce the possibility of flooding.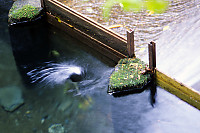 The falls (Shiraito Falls) are next to the stairs up to the Taki-no-o Shrine. The stairs up are steep and slope is failing (yet another Japan against nature project under way), but the shrine is lonely and natural.

The shrines themselves are no where near as flashy as the big three that everyone goes to Nikko to see. These temples were built in 820 AD and are dedicated to goddess of Mt. Nyoho. There was almost no one up here so we could wander around taking photos without waiting to get people out of the way.

Besides the usual temple, there are a number of other sites. One of my favorites was two stone foxes guarding a smaller shrine. Another high point is the Kodané-Ishi "Child-Seed Stone" - visiting it apparently increases fertility. Of course we didn't know that at the time.


---
Tags: Japan(25), statue(8), temple(7), architectural decoration(6), lantern(4), stream(3)
People: Andrea(1)
From: John Harvey Photo > Trips out of the Country > A Second Trip to Japan > Nikko

Last Modified Tuesday, June 9th, 2009 at 00:44:53 Edit
Copyright and Contact Information.