September 2021
Trying to keep that Social Distance

---
Riding the Stanley Park Railway
For Claira's birthday this year we rented the shelter close to the Stanely Park Railway and the kids rode the rails! You can buy 10 kids rides at discount and we had two kids rides unused after the birthday. The passes ended at the end of the season (just before school started) so to get our $4.40 worth, we went down to use up our last two passes.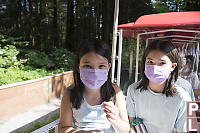 The kids like to sit near the rear of the train which gives some nice views as the train goes around curves. The ride itself is something like 12 minutes and even though the kids rode in April, the certainly enjoyed their time on the train.




The math doesn't really work out. We saved $4.40 on the kids passes, but I needed an adult ride ($4) and we needed to park ($4 and change). Either way, it was a fun little ride.


Light Up Chinatown
There have been a few great "Light Up" events in Vancouver like "Lumiere (
2018
,
2019
,
2020
)" or Illuminate Yaletown (
2009
,
2012
,
2020
). Chinatown announced a new event and being outdoors we thought we would give it a try. Sadly, there were no actual lights, but lots of lanterns and Chinatown is generally awesome! We had dinner at our favorite Hong Kong style diner and the hit the streets.

They had live music and some venues were super busy, but other than the balloons, not a lot for kids. We circled back and picked up an ice cream cone before heading home.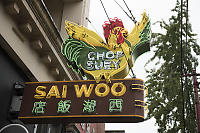 Walking Along West Dyke Trail
Beautiful days in September are precious - you really feel the need to make the most of them. Wanting to fill in red dots on the map, I decided we should take walk along the West Dyke Trail in Richmond.


You can follow this trail all the way down to Steveston - about 5km. Claira didn't want to walk anything like that kind of distance so we decided to go with about a 3km round trip - out to a nice view point and back.


The kids are good at keeping themselves entertained. They found Dandelions were plentiful so every few steps they picked a new head and started blowing. I think it helped them pass the time.


Renfrew Ravine Moon Festival 2021
The Renfrew Ravine Moon Festival has been a "Go To" event for us for years - I have photos from (
2013
,
2015
,
2017
,
2018
). This year Claira and I worked on making her her own lantern - butterfly wings with built in lights. Over the course of a week we used reed to make a frame, put in LED lights and then covered the frame with tissue paper. I sewed together some straps and she was ready for a lantern festival!

Unfortunately, as we drove over to Renfrew, the rain started and got stronger by the minute. By the time we arrived it was pouring and there was little we could about it. We didn't want to stand around in the rain waiting for the dark so we went in at twilight.



The lanterns are a mix of new and old - some lanterns like the fish or the golden pig I've seen in previous years while quite a few were new this year. Many of the little displays had tents or plastic over them so the lanterns wouldn't turn to mush before the night was out. I quite enjoyed the central display of large crystal like lanterns hanging from a tree. There seemed to be quite a few mobiles this year - lanterns slowly rotating in the wind.



There are musicians or live performers spread around the park. You don't have to go far to see something new.



Finding a good photo spot is always a bit of a challenge. Being dark, you want a place where the lanterns throw some light on peoples faces, but not so much that the mood is ruined. You don't want to over-expose so that the lantern light is blown out, but you also need the exposure to be short enough that the motion blur is in control.


As the night went on, my camera go wetter which gives a bit of a fog look. Eventually you just have to put it away.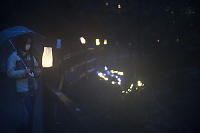 I know it's a challenge to run a festival like this in COVID times. I'm really glad they did run it because it was great to get outside and see something amazing!


---
Tags: lantern(9), Renfrew Ravine Moon Festival(8), Vancouver Chinatown(5), Stanley Park Miniature Train(3), balloon(2), motion blur(2)
People: Claira(6), Nara(4), Helen(2)
From: John Harvey Photo > Blogs for 2021 to 2005 > September 2021

Last Modified Tuesday, October 19th, 2021 at 23:19:38 Edit
Copyright and Contact Information.