Salt Spring Apple Festival

Oh, and I got engaged

---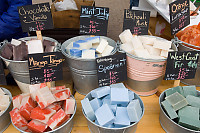 Salt Spring has a number of highlights, one of them is the farmers market on Saturday mornings. Farmers Markets have been gaining popularity all over the province and can be found on many of the Gulf Islands, but Salt Spring Market is the most prominent of them. This markets has a firm requirement that everything is produced locally and the people you see in the booths you will see around the island later on in a weekend.


This trip has a special reason - I had a ring in my pocket and a question on my mind. After a bit of yuppie touring (I was quite impressed with the Salt Spring Vineyard) we arrived at the top of Mount Maxwell. I was a little surprised by how busy it was (I was hoping for a quite space) but thankfully everyone was walking back to the parking lot as we walked up. So with the hill top free, after a minute of taking in the view, I got down on one knee and asked Helen is she would marry me. She said yes.

It took me a few moments to remember it is my job to put the ring on the finger.

The Apple Festival
Apparently, this is the 8th Annual Apple Festival on Salt Spring Island. Apparently, around the previous turn of the century (like 1905), before there was good transportation to the Okanagan, Salt Spring was the major agricultural supplier to Victoria and the Lower Mainland.


Scattered around the island are more than a dozen orchards - some of which were once large commercial farms. Now the farms concentrate on diversity (the number of varietals shown was staggering) and their environmental footprint. Most of the farms are organic and many of the farms have additional constraints on irrigation and land use. While apples were for sale during the apple festival (generally between $1.50 and $2 a pound), nothing appeared to be moving in commercial quantities.


After purchasing our tickets in Ganges, the first farm we visited was Purdy-Inglin Farm. This farm was settled in 1884 and is still operated by family. They produced some nice apples, but they also had a demonstration of a juicer made at turn of the century. It's a pretty simple machine - apples get torn apart by a studded wheel and the shreds land in a basket below. The shreds are then pressed and the juice flows down the ramp into a tub. The contents of the tub are then filtered and finally put in bottles. It was a real pleasure to see the family work the profits of their farm.



We poked around a few more locations - Moonstruck Organic Cheese and the The Beddis Castle - but were were getting hungry so we decided to go to The Bread Lady. She has a wood burning bread oven and makes a lot of very nice treats.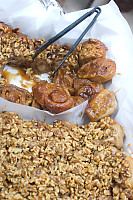 Helen had a pork sandwich (fresh off the grill) and in classic island fashion, there was a vegetarian option.



We visited the nearby Apple Luscious Orchard and saw our first large scale tasting. This orchard has hundreds of trees and looks like they are only weeks away from being completely overrun by the local flora.



Our final stop before our appointment with the ferry was the Bright Farm. This working farm was selling at least two dozen varietals. Their orchard has hundreds of varietals (most trees are only a few years old) so in the future this farm will be producing an amazing variety of fruit.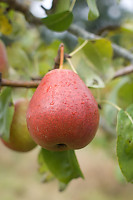 Being city kids, the chickens really made us laugh. I believe these chickens are fed by people so when you walk through their yard, they come running to see you. Nothing is more funny than a chicken following you.



Great weekend had!


---
Tags: gulf island(15), Salt Spring Island(12), produce(10), farm(7), apple(6), market(5)
People: John(1), Helen(1)
From: John Harvey Photo > John's Overnight Page > Salt Spring Apple Festival
From: John Harvey Photo > John's Overnight Page > Salt Spring Apple Festival 2 > Salt Spring Apple Festival
From: John Harvey Photo > Blogs for 2022 to 2005 > Salt Spring Apple Festival 2 > Salt Spring Apple Festival

Last Modified Saturday, January 21st, 2023 at 23:45:37 Edit
Copyright and Contact Information.