Pender Island for the May Long Weekend

Way too many card games, lots of great food

---
At some point, I'm sure Mark mentioned "I'm bored - what are we doing for the long weekend", and the May Day Long weekend trips were born. So far, we have visited
Tofino
(2000),
Salt Spring
(2001), the
Sunshine coast
(2002), and this year we added Pender Island. We've been here before on a
camping trip
, but this time we decided to
rent a cabin
. This year, we managed to get nine people out, which matched the cabin well.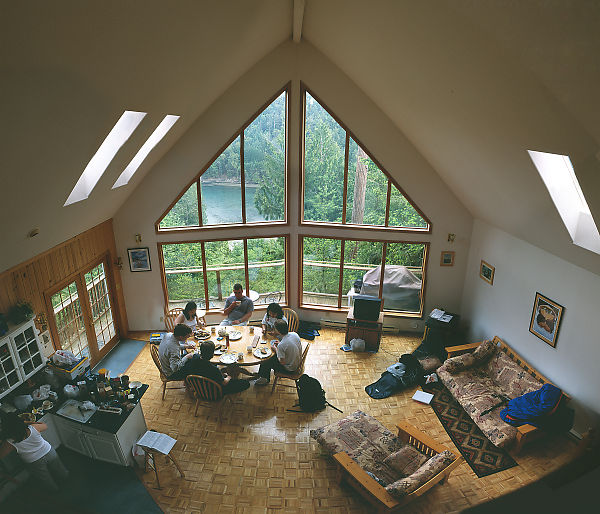 We took the 6:30 ferry from Vancouver, and with the weekend traffic it was a bit of a challenge to get there on time. After the long ride over, it was more than dark when we arrived and navigating to the house was a bit of challenge, but we made it ok. We settled in, played cards and figured out who was sleeping where.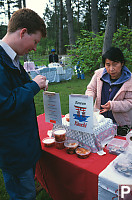 The next morning we went out to see the Saturday Market on the island. Salt Spring is famous for it's Market, but Pender has been running a market with local artisans for many years as well.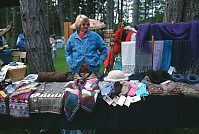 The last time we visited Pender, the market was held in the driftwood center (the commercial center of the island), but the market has been moved to the community center, about 5 minuets north of driftwood. Now, most of the vendors are selling locally produced art, but there is still lots of prepared food and some garden items.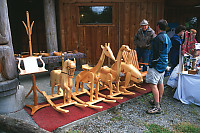 Our next challenge is to get a fish for dinner. Pender island doesn't have a sea food store (there isn't one on any of the islands so far as I know), but you might be able to get fish at the grocery store. Passing through driftwood, we noticed a sign saying a fish boat was moored at Hope Bay.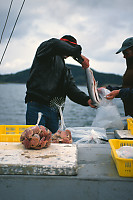 Hope Bay is a government dock (you can barely see the red hand rails), and three ships were docked, two selling fish. We found an appropriate sized salmon, and the boat was also selling scallops. Sean couldn't resist, so we purchased a bag of scallops as well.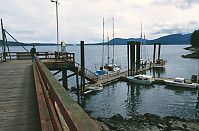 We got back to the house, fish in the back, and Mark made a great lunch. David and I went for a walk below the house in Shingle Bay. The bay is large and shallow and with the tide out it's all mud. The northern edge of the bay borders on the new Pacific Marine Heritage Legacy Park, and strolling along the beach we found lots of interesting plants.
Back at the house, I had a good afternoon nap, and woke up in time to see Sean cooking dinner. Sean's dinner plans were vast - two quiches (mushroom), salmon, and scallops. The salmon was particularly interesting - Sean wanted to burry the fish in coarse salt, and then bake the fish in the oven. The steam coming from the salmon would cause the salt to form a solid crust and keep the additional heat in. When the fish came out of the oven, we had a solid crust. The salt crust had stuck the the skin in places, but tapping the crust with a fork made it disintegrate.

I didn't actually eat the salmon or scallops, but everyone seemed happy when dinner was done.


Lots of cards, lots of reading and a number of good games of ping pong and we were done for the night.


Sunday


By Sunday morning, I was done resting and up for a little hiking. After Jer's great crepe breakfast, David, Sean and I walked down the road to a trail David and I spotted the night before.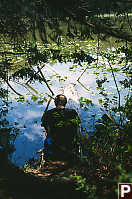 The trail turned out to be entrance to Pacific Marine Heritage Legacy Park, the new national park in the Gulf Islands. We hiked up the steep trail (with no map) and found a small marsh and large lake. I later found out that lake is called Roe Lake.



The trails were of varying sizes - the trail up looks to be the remains of a logging road, and while steep, was in good condition. Further in, the trails narrowed to a frequently used walking trail. Signs or a map would have been good (by the time we determined we had looped, our stack was about 6 forks deep), but later looking at map, we really couldn't have gotten that lost.


My favorite part of the hike was just at the end of loop. The forest was very quiet, but moist for Island standards. This park really is a treasure.


We came back for Lunch - Thao treated us to stuffed pears, greens and angel hair pasta with a light oil dressing - very good. The rest of our party was interested in hiking by this point so we took on another challenge - Mount Norman.


Mount Norman Regional Park may become part of the new Gulf Islands National Park Reserve - the same park system (but physically disjoint) as the park that has Roe lake in it. Mount Norman is the highest point on the Pender Islands, but the wide road (we could have driven to the top if there wasn't a gate) made the hike easy.


The view is spectacular. This view is a bit distorted (it's about 180 degrees), but it gives you a sense of what you can see. The large bay in front is called Bedwell Harbour - it actually separates North and South Penders. The land behind it is part of North Pender Island. The largest island close by (center of the frame) is Moresby Island - separated from here by the Swanson Channel. The next island to the right is
Portland Island - we once camped there
. The higher land right of Portland is Vancouver Island.
Coming down from that, it was soon dinner time. After dinner was cleaned up, I wanted to find some place to get a good view of sunset. David and I spotted a place the night before, but it turned out the sun set just out of view, so we had to move on.

We got to Thieves bay just as the sun was dropping below the horizon, so it was a bit rushed, but beautiful to watch. What a great way to end a day.



Monday

All great things must come to and end, and so did our stay. We cleaned up, packed up (Did all this gear really come with us?), and tried to figure out what to do with the afternoon.




The first order of business was lunch. It was Stephen's turn and he packed a picnic lunch. Figuring a good bit of Park for a lunch only required thinking back to last night - Thieves bay has picnic tables, beach access and a nice bit lawn for playing Frisbee.



Our ferry left at 7:30 so we got to watch the sun go down as we pulled out of the islands. A good weekend had by all.


---
Tags: gulf island(20), market(6), beach(4), cooking(4), sunset(3), flower(3)
People: David(4), Sean(3), Jesse(3), Jin(3), John(1), Mark(1)
From: John Harvey Photo > Pender Island for the May Long Weekend
From: John Harvey Photo > Pender Island for the May Long Weekend
From: John Harvey Photo > John's Overnight Page > Pender Island for the May Long Weekend


Pender Island is beautiful, happen to catch any baseball games going on in the only field on the island?

Elliot Logan
Tuesday, February 26th, 2008 at 12:48:38

Love your exquisite photography! Maybe you would submit one or two to PenderBlog (with credits of course). Glad you enjoyed your visit to the island. Come back and try kayaking - Jocko.

Jocko

Monday, March 10th, 2008 at 23:54:48

I live on Shingle Bay., rigt across from the park you enjoyed. I think your pictures are very good. Glad you enjoyed your visit, next time you should try out the disc Golf course. It's free! kayaking is great fun ,too.

Judy
Saturday, March 22nd, 2008 at 17:20:39


Last Modified Tuesday, June 9th, 2009 at 00:49:55 Edit
Copyright and Contact Information.