Gabriola

Another May Long Weekend

---
This is year seven of the May Long Weekend Tradition and we are still going Strong. By the numbers -

Salt Spring Island

(2001 - 7 people),

Sunshine coast

(2002 - 7 people),

Pender Island

(2003 - 9 people),

Mudge Island

(2004 - 9 people),

Port Renfrew

(2005 - 10 people),

Galiano

(2006 - 10 people) and this year we are 11 people. We had some challenges finding a place to accommodate us (that was new) so we were quite happy to find the place on Gabriola - and Island I've never been to before.

A first - this year we had fewer cars seats than people. Four people arrived by plane so we did a bit of shuttling, but everything worked out just fine.

Saturday Market


I'm a
big fan of Markets
. An ideal May Long Weekend trip for me has a visit to a local market. The Gabriola Market is second only to
Salt Spring Island's market
and I think edged out
Pender Island's Market
- I was quite surprised by how busy it was. The locals told me that the first market of the year (which is always the May long weekend) is generally the busiest. I was quite impressed by the local groceries and the art work.

A few minutes after we arrived, Helen and Andrea were hitting me up for money. Andrea wound up with a hands full of snacks including locally made licorice and Helen purchased veggies for our meal later that evening. They weren't the only people who wound up with a little shopping.



Coincident to the Market opening, the Alpaca farm on the Island (just down the road) also opened and had an open house. We stopped in with the a few and discovered that alpaca's really are a nicer version of sheep. Their small size and huge glassy eyes sure make them close to pet - probably why I haven't heard of alpaca meat for sale.


Tide Pools
Our vacation rental was across the street from a rocky beach. Rocky beach often means tide pools. The currents in this area run fast so the inter tidal areas are often rich. The inter tidal areas here were dominated by Purple Sea stars and kelp - a few pools had Anemones and at the lowest tide areas you could find the odd leather star or sunflower star.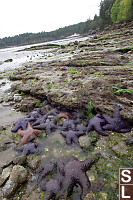 It's quite easy to get lost poking your nose in tide pools. While this beach isn't the prettiest beach ever, the wide scale view as actually quite nice. The ferry arrives close by every hour or so at night you get a bit of a light show when the ferry comes in.

On Sunday night, we got a bit of a surprise. It had been pretty overcast that day so I wasn't expecting much of sunset. Stephen actually noticed the colour first and after he mentioned it, pretty much all of us went out for the short walk to the bay to take in the view.


Descanso Bay
The closest proper park to our house was Descanso bay. One afternoon a few of us went for a bit of a walk around and I was quite surprised to find I didn't have a camera! I had left it on the kitchen table, and was without camera when I found some nice orchids poking through the undergrowth.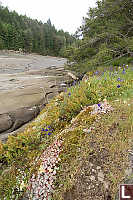 I was so impressed with the plants, after I drove everyone back, I drove out again (this time with my camera) and took photos of the flowers I missed.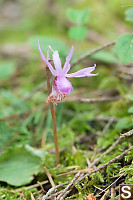 I'm quite glad I came back.
Hard Time at the House
Any trip has it's fair share of time at the house. This year we brought lots of board games (assuming the weather was going to turn poor) so we played a number of larger group games like Jeremy's new copy of Puerto Rico and Carcassonne. Sadly, while we brought Diplomacy, it didn't get opened up.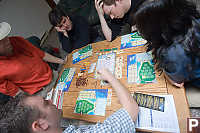 We generally share this cooking duties and this year saw more than it's fair share of spectacular cooking. Sean and Catherine pulled out the stops with their hand made pasta, but Helen also did an amazing job on a multi dish asian dinner.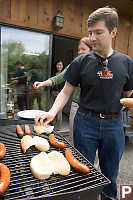 You could have spent the entire weekend in the house and had a great time, but thankfully the weather cooperated and we got a number of chances to get outside.
Petroglyphs
Andrea is an archeology buff and when she heard there were Petroglyphs on the Island she was quite keen to come out and see them. We got a car full of people and drove out to the church and only then realized it was Sunday morning and the church was in full service. As quietly as we could, we parked, and then went on a hike into the back field to find the petroglyphs. We were quickly rewarded.


The petroglyphs are quite cryptic and despite our best storytelling, we couldn't really come up with satisfactory stories to explain what we were looking at. Some of the Petroglyphs were quite faint and for once I was happy there was a bit of rain to help highlight the edges of the carving.


What I wasn't expecting was the lovely grass fields with wild flowers. Most of the fields were covered in buttercup and sea blush and made a lovely carpet. There was a single fallen but still growing Garry Oak growing in the middle.


I've seen Shooting Stars in Van Dusen Gardens before, but this was the first time I've seen them naturally occurring in the wild. I've looked them up - I'm pretty sure they are native, not some loose garden variety.



On our drive back, we passed by brickyard beach and I noticed a small group of Great Blue Herons feeding in the shallows.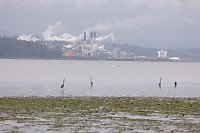 This area is quite close to Mudge Island where I've seen groups of Great Blue Herons before. I'm guessing the productive waters in this area feed quite a bit wildlife. I found the combination of saw mill and elegant birds quite jarring, but that's BC for you.


Sandwell Provincial Park
Jin wanted to stretch her legs so we picked a park and went for a walk. Sandwell is on the North coast and has a view of Entrance Island Lighthouse. It's also a huge sandy beach.
Gabriola Sands / Malaspina Galleries
Monday turned out to be our best day weather wise and we took advantage with a little walk. First we went to Gabriola Sands Provincial Park (called Twin Beaches by some locals). It's got a nice sandy beach and a grassy field for a walk.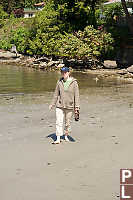 Second, we drive to the Malaspina Galleries - a rock formation on the western side of the Island. It's a quick walk to the shore and some fantastic rock work near the shore. There is some concern that these structures may collapse, but we threw caution to the wind.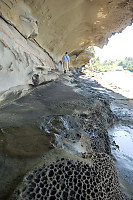 Thanks everyone for coming out - I had a fantastic weekend and I hope everyone else did too!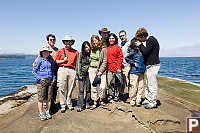 ---
Tags: beach(9), gulf island(8), flower(7), rock(7), market(5), tide pool(5)
People: Jin(4), Stephen(4), Andrea(3), Helen(3), Mark(3), Sean(3)
From: John Harvey Photo > John's Overnight Page > Gabriola

Last Modified Saturday, January 21st, 2023 at 23:45:00 Edit
Copyright and Contact Information.