Japan 7

A week spent in Tokyo and the Izu Peninsula

---
Parks in Tokyo
We had already visited
Hong Kong (12)
and arranged for an 8 day stop over in Japan before we returned to Canada. We have tried other ways of doing this - last year we visited
Okinawa
in the middle of a
Hong Kong (11)
trip. Two years before that, we arrived first in
Japan (5)
and then went on to
Hong Kong (9)
. This trip (inside of trip to Hong Kong) actually has another trip inside - we are mostly in Tokyo, but we are taking a long weekend trip to the Izu Peninsula, close to Tokyo.
We arrived late Monday night. We were already over out jet lag from Canada (we were actually waking up an hour late) so I figured some outside time walking would be good to orient ourseleves. We lucked out with the timing - we arrived right in prime Cherry Blossom time. Our first destination - Meiji Shrine - has cherry blossoms, but I went to the wrong entrance and we missed it all.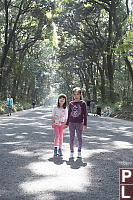 From the side we entered, the signature feature is the road covered in trees like it is a tunnel. On a sunny day you get beams of light coming through the holes in the foliage making for blotches on the road. Walking down the road (and a turn) you come to the temple complex. The temple is old but is always being maintained so today it actually looked quite new.



We walked out of the park into Harajuku where we looked for lunch.

After lunch we took a taxi to Shinjuku park.

Shinjuku Park
This park is a hot spot for cherry blossom viewing and the crowds were out in full force. Many of the people here are tourists from other parts of Asia.




The cherry blossoms in Vancouver are quite pink - I was surprised how white many of the trees are here. In Vancouver, we have several varieties of trees, some boom early and some bloom late. The park seemed to be organized so that everything is blooming at the same time.



We had just eaten lunch so we purchased cookies from a stand and hand a snack under the cherry blossoms.


Tokyo DisneySea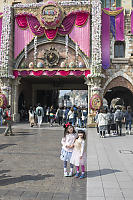 We took the subway to Tokyo Station and after a bit of searching (there was construction) we found the JR bus station to catch a bus to the Tokyo Disney parks. The total trip got us there around 9:30am and I was surprised by the massive crowds that were already in the park.

Our trip to Japan happened at the end of a school semester so there was no good day to go to DisneySea. We tried a Wednesday hoping it would be least busy, but it was the best of a bad situation. We knew from reading online that your best strategy is to collect some fast passes early and then get in lines that are reasonable until your fast pass comes up. The Toy Story ride we knew was going to be hot, but we really had no idea - by 9:40 when we arrived, there were no more fast passes and the line up was 220 minutes long - almost four hours. We were seriously dejected.

We decided to go to the Mermaid Lagoon to get some tickets for the show. We had much more luck there - fast passes available about an hour later and the rides had roughly a 30 minute line up. The kids and Helen lined up for a ride and I went to get fast passes for the Nemo and Friends SeaRider. By 11am, the SeaRider fast passes were for 4 hours later.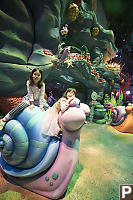 We watched the King Triton Show which mostly involved a mermaid on high wires flying around while a musical performance went on.



We were a little worried about long lineups at lunch so we had lunch early and then went to the Arabian Coast part. The rides were smaller scale, but the line ups were short. The kids have a soft spot for carousels.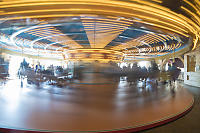 There was a magic carpet ride, very similar to the dumbo ride in Hong Kong Disneyland. We actually got into trouble - they have a sign asking you not to take photos but we ignored it. They actually stopped the ride to remind us of the rule. Our bad.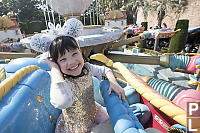 We saw the Nemo Ride, watched a water parade and then had time for one last ride. We picked the gondola ride in the Italy section of the park.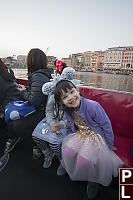 Izu Peninsula
Three years ago, we went to Hakone. Hakone is about an hour away by train from Tokyo and it feels much like Whistler does relative to Vancouver - a busy weekend spot where wealthy people play. This trip we picked Izu - we were hoping for a bit more of the small town Japan feel. We picked a place on AirB&B and rented a car from the closest Shinkansen station. Weekend set!




It took us a bit of time to find the house (the host kindly met us at the train station and showed us the last few km). The kids wanted some quiet time so I went for a brief walk with Mark along a part of the Jogasaki Coast.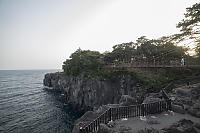 One of the nice things about renting a house is that you can almost have a normal life - cook as you like, take a bath and read by the fire. Finding alternative vegetarian protein (other than tofu) doesn't happen in a small town, but everything else could be like home.

Mark gave us a reasonable "9am" go time but the kids and I were up earlier. Some birds were in the trees around the home.

For our "all in Izu" day, we decided to go with more of that natural attractions. Our first stop a Cherry Blossom park at the base of Mt. Omuro. The near by parking lots were nuts (but free!) but this was by far the best cherry blossom viewing we saw outside of town proper.



We did some family photos. We certainly weren't alone.



It was still pretty early in the day, but a few stands had already opened selling things. Mark got a coffee, I decided to try the grilled Shiitake mushrooms. Nice eating! These were grilled from fresh with what I thought was a dashi sauce. Well before lunch they were already having trouble keeping up with orders.




We got back in the car and drove 5 minutes down the road to Mount Omuro. There is a sky lift style ride to the top of the mountain. Once you are the top you can walk the paved path around the caldera, taking in the views of the surrounding countryside and the inside of the now extinct volcano.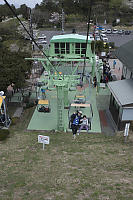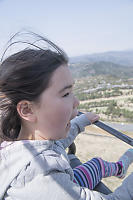 The path way is on the highest part of the ridge around the volcano so everyone walking shows up as a silhouette in pictures of the volcano. The entire landscape is covered in short grass or small shrubs so there is no limit to the views.



There was a small gift shop a the top of the lift and traditional archery was offered in the bottom, but most of the experience was just going for a walk. I really enjoyed that.



The roads in Izu aren't large so you do want to optimize your route. I picked
Banjo falls
because it was on the way to other falls. The trip started promising (large road) but after a few minutes we were on a single lane twisty road going through the forest. We came out in a small town and drove on road through farmers fields up to Banjo falls. The parking lot was quite big with areas roped off for buses. We were one of two cars in the lot.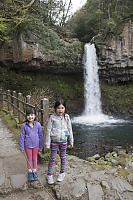 We walked down the trail and found the falls. All of the rocks behind the falls are cemented into place and the trail that went behind the falls has now been blocked off.



There was more hiking, but we were running out of time. Next tourist attraction! Our next stop is Joren Falls, maybe 25 minutes down the road. This had a larger parking lot with lots of gift shops (all closing at 4pm). The falls are attractive, but the area has been highly developed.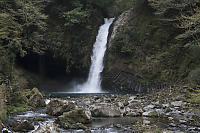 The next morning I got before everyone else and took a walk to see more of the Jogasaki Coast. You can walk for kilometers along the coastal trail, but I didn't have time for that. There was a free parking lot near the train station and a trail next to the river to take you to the coast. A brief walk along the trail and you come to Oshima falls. The river you walked along just drops into the ocean and there is a nice headland to take in the view.



Further down the coast is Oyodo Reef - an outcropping of Columnar Basalt that was once cooling lava in a volcano but is now ocean front. A steep set of stairs takes you to shore and you can see the ocean pouring over the hexagonal rock.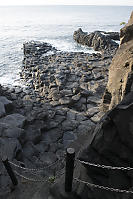 The rock isn't perfectly regular hexagonal columns, but it's still pretty to look at it.



Back home, we packed up and left our AirB&B. Today our plan was to drive down the eastern side of the peninsula, see some sights and then return to Atami to drop off the car and get on the Shinkansen back to Tokyo. Our first destination of the day was a small farmers market in Inatori.


Googling a "Farmers Market" in Japan doesn't really work - you usually find stores selling produce from Japan. If you are looking for a market with lots of vendors that are local, you need to search for "Market" and then sort out everything else. Helen found what we would call a farmers market - lots of local vendors selling locally produced produce, food and items.



I must admit, I am a sucker for anything steaming. Mark found a vendor that had a sweet desert style bun so we picked one up. Helen found locally harvested seaweed which the kids really liked.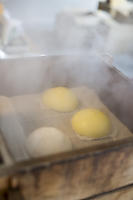 Shirahama Beach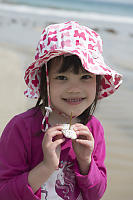 Lunch at 万宝商店
Helen's guide book from Hong Kong came through for us for lunch. This small restaurant looks like a converted carport and illegal add on to someone's house. They have a grill on one of the tables and a large display fridge showing locally caught and marinated fish and other seafood. You pick your items (all meat), they BBQ them and if you ask nice they will give you white rice as well. The fish was so nice, the kids ate it even though they didn't recognize it.
Back in Tokyo
The kids had been traveling for about three weeks at this point and they were quite reluctant to try new things. We thought we would try conveyor belt sushi and Mark suggested a Genki Sushi in Shibuya. Genki Sushi is a multi-national chain (it's quite popular in Hong Kong - we actually had lunch in one earlier in the trip). This Genki sushi is a bit special. Instead of a conveyor belt, it has a point to point, multi-level rail system that delivers your orders to your table.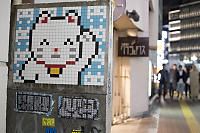 It had been a few days since the kids had been to a playground we saw on the map there was one in Shinjuku Chuo Park near the Metropolitan building complex. We walked over from Mark's place and found lots of kids using it. The kids had a good time.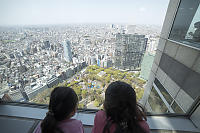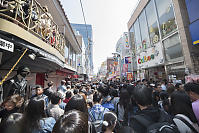 We had one last day in Tokyo and were looking for a kid friendly thing to do. We picked a small aquarium in Tokyo called Sumida Aquarium, which I was quite surprised to find on the roof of a 6 story building. They have traditional huge tanks (which must take some pretty crazy structure to support 6 stories up in an earth quake zone).


They also have penguins in a novel tank that makes it appear as if they flying. Seeing Penguins swim above you was quite an interesting experience. The penguins can get out of their tank an into a land/burrow area. You can get surprisingly close to the penguins which don't seem to mind people being so close by.


---
Tags: Japan(63), Tokyo(19), cherry blossoms(12), theme park(8), aquarium(6), restaurant(6)
People: Claira(19), Nara(14), Mark(3), Helen(2), John(1)
From: John Harvey Photo > Japan 7
From: John Harvey Photo > Trips out of the Country > Japan 7

Last Modified Sunday, January 8th, 2023 at 21:03:24 Edit
Copyright and Contact Information.